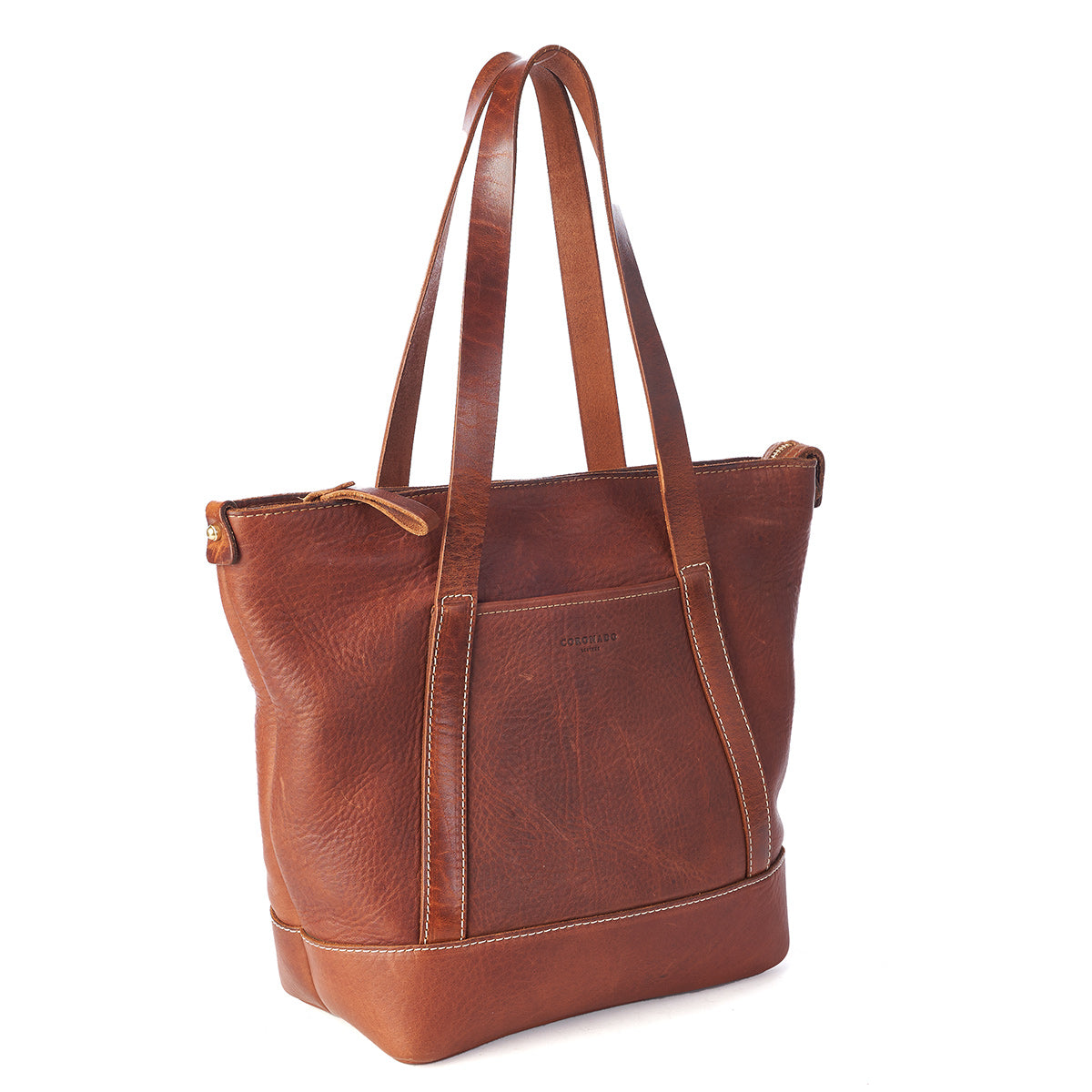 Aston CCW Tote (LIMITED EDITION-20)
The classic tote is functional in so many lifestyles...work, travel or casual use.  Our NEW Aston CCW Tote is an updated version with a top brass zipper, angled front straps and our signature key-locking CCW pocket.  
We introduced our Aston Tote in a new, custom-tanned Horween® leather that is bound to be a new favorite of ours. It's a vintaged version of Horween® Dearborn leather, a 100% Vegetable tanned leather, with added waxes and oils to create a slightly aged appearance with a brilliant smell and feel.  We use a heavier Horween® Dublin leather for the handles and trim then finish the edges by hand with edges stain and polishing.

This is a LIMITED EDITION handbag with less than (20)units made. Each will be marked and logged with an eight-digit serial#. 
Horween® Waxed Vegetable Tanned Leather (5/6oz) USA 
Horween® Strapping & Handle Leather (8/9oz) USA
Brass Inside Zipper (Ykk USA)
6oz. Twill Lining (USA)


Main top compartment secured with a brass zipper
Edges stained, polished & waxed by hand
Front open pocket
Inside 8" brass zipper pocket
Inside leather utility panel (cell phone, note pad)
Contrast stitch details
Key-locking CCW pocket & holster (8" x 11")
Dimensions: 16.5" x 13.5" x 5"
Individual Internal Serial# (Marked & Logged)
SKU: W42190
MADE IN USA


We believe in our craftsmanship and the integrity of our brand, every Coronado Leather product is backed by our LIFETIME WARRANTY.  We want you to enjoy using our products for years or decades, so they are built to last. However, sometimes things happen and we are there to repair or replace the item.  
CLICK HERE to learn more about our LIFETIME WARRANTY POLICY
---