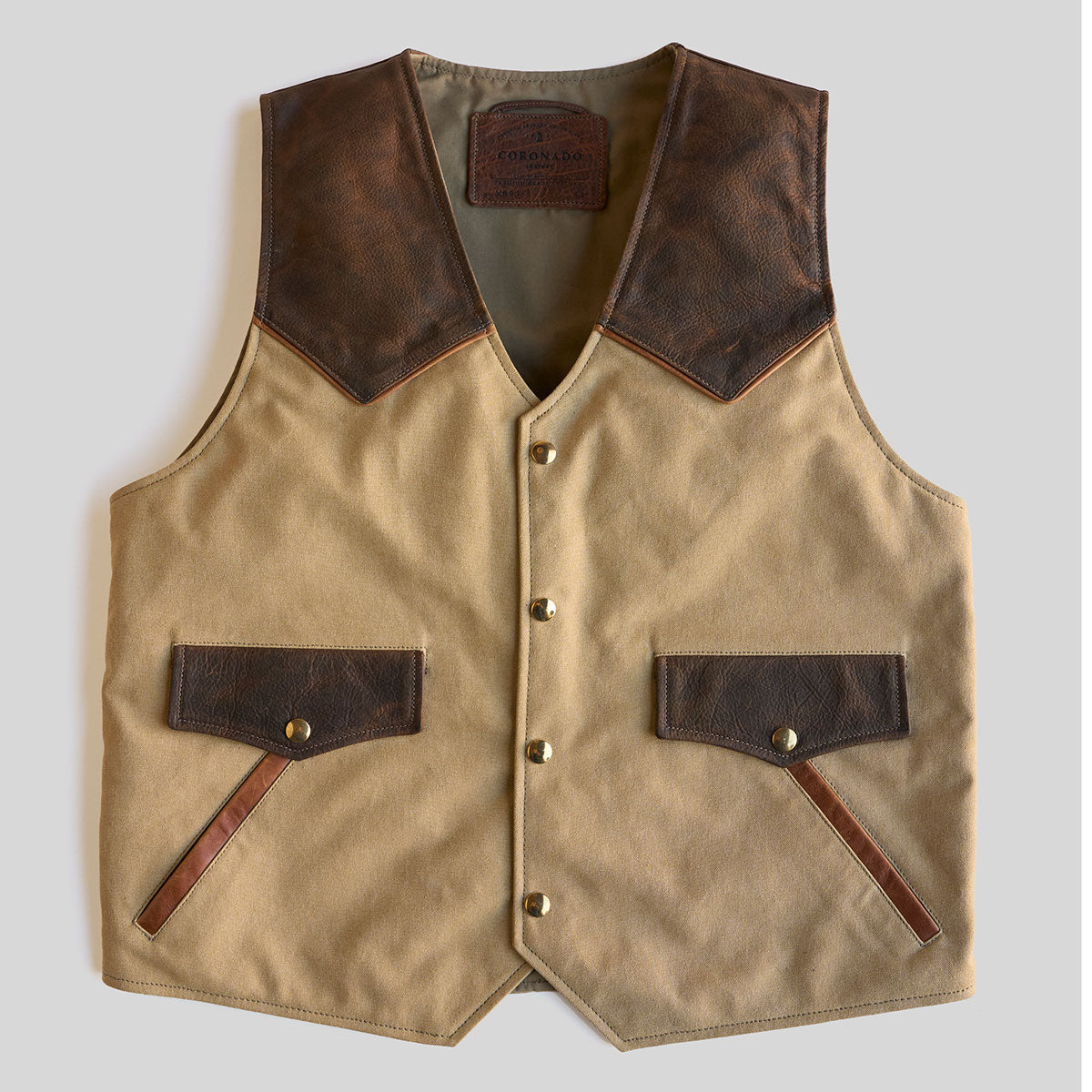 Circle-C Ranch-Tan Vest | L.E. x 60
The NEW Circle-C Ranch-Tan Vest is lighter weight version of our all-leather vest. Made with a 100% cotton canvas that is weather resistant and light-weight, it will take a beating and still look good! A great spring/summer weight vest. The tan canvas is complemented with our NEW distressed Indy Bison leather front and back yokes, pockets flaps and other trim. 

It is a ranch inspired style with a casual western appearance and cut.  Made with western yoke front shoulders, back panels, detailed contrasting leather piping, snap flap pockets and a slightly tapered fit. CCW built with our signature concealed-carry pockets and removable holster. 
PLEASE NOTE:  Leather for this vest is pictured in the "Grey Background" shots.  Model images in all leather tan vest are displayed for fit only. 

LIMITED EDITION: Less Than (70) Made In Total  | FINAL 2022 OFFERING

Materials
Features 

Details
Sizing
12oz. Cotton Canvas Shell (Ranch-Tan) 
American Bison Shoulders & Back Yoke, Pockets & Details
5oz. Cotton/Poly Liner
Nylon LinedCCW Pockets
Brass Front Snaps

Cut with a shorter, traditional vest length
Two Outside Pockets
Two Interior Leather Pockets (Cell & Wallet Flap)
One Inside Zipper Pocket
Full leather back


Dual inside (CCW) concealed-carry pockets (includes universal holster)




Sizes available: 38 - 62 (Tall available)
Vest length: 24-27" (measured from base of neck) Tall Cuts: Add 1.5"
SKU: V3220

CCW Dimensions: 8" x 12" CCW Opening: 8"
Designed In USA | Hand-Crafted & Built In Mexico



Click Here to view our sizing chart & Information Page
---