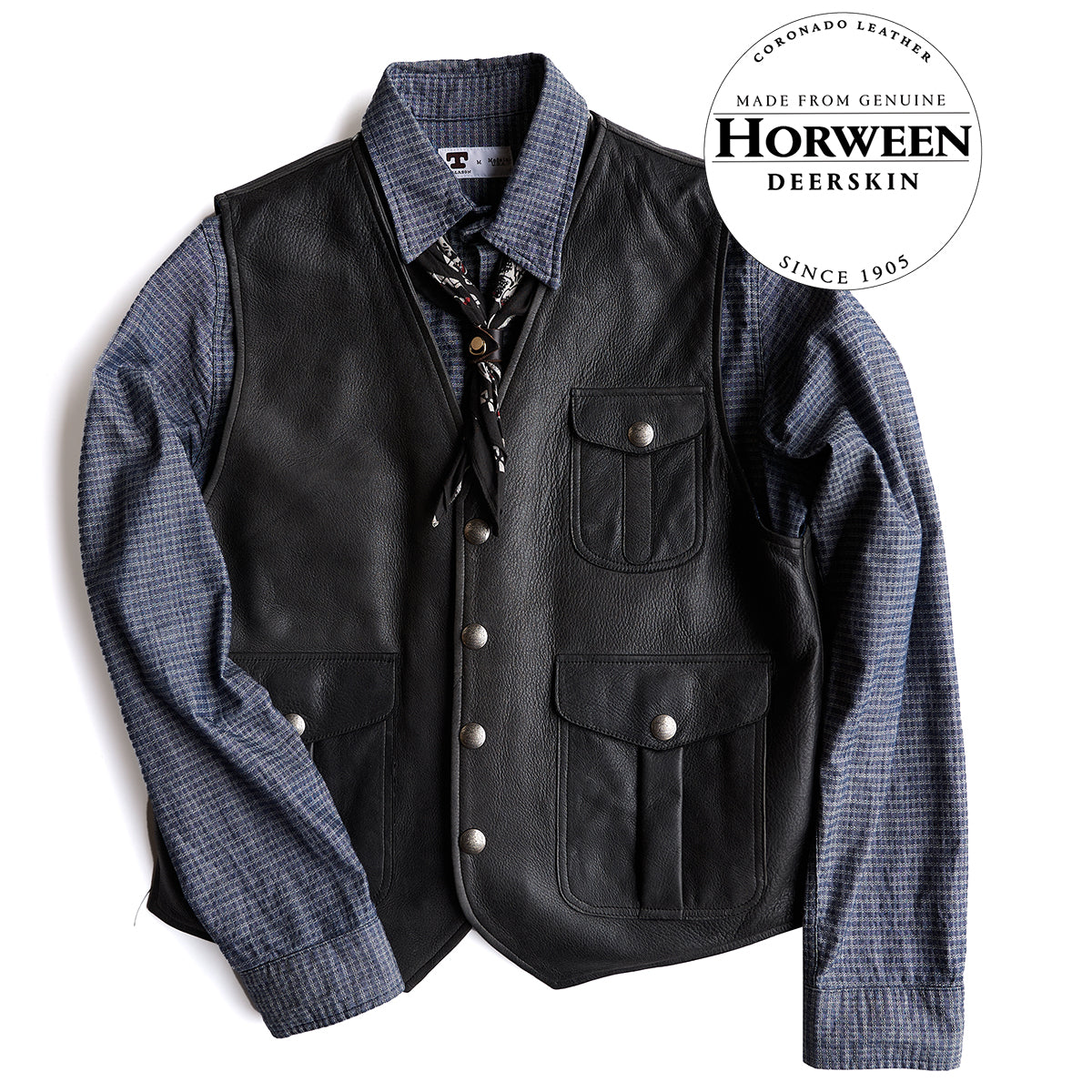 Utica Buckskin Vest No.101 (BLACK LABEL)
LIMITED EDITION BLACK-LABEL | HORWEEN DEERSKIN (LESS THAN 50 MADE) 
SHIPS EARLY AUGUST 2021. Limited sizes and quantities available. 
The Utica Buckskin Vest No.16 is a new and exclusive design created as a variation of our best-selling Edinburgh Vest.  Made with a classic V front design without a collar or lapel, the cut is great for riding or just an overall lighter-weight vest. 
This version is a NEW "Limited Edition Black-Label" offering made from a natural "Buckskin" or deerskin leather in a 3-4oz. weight. The hides are part of a very limited-edition tannage from Horween® of Chicago. The rustic beauty of "Buckskin" is it's butter-soft hand, pliable feel and small pebble grain surface. Widely used in gloves because of the amazing feel along with high abrasion resistance and strength.  Although deerskin is one of the more difficult leathers to craft, due to the stretch and grain characteristics, it's also one that is highly sought-out because of the amazing hand-feel and durability. 
The style was inspired by Italian flannel vests but with an Americana flare. Designed with slightly narrower shoulders, a V-front cut and front patch pockets with side hand-warmer entry.  We trim the vest with a premium Japanese cotton shirting fabric, almost as soft as the leather! It's a highly functional style with custom vintage "Eagle" engraved snaps, five inside and three inside pockets. The cut is slightly tapered and designed to be just below the belt (24" back on sizes 40-48). 
This new Black-Label vest will be made in very limited quantities with a unique serial-number embossed on the vest and logged.
Materials
Features 

Details
Sizing
Full-Grain Naked Horween Deerskin 3-3.5oz (USA)
Premium Japanese Shirt Fabric (100% Cotton) (JAPAN)
Custom "Eagle" Embossed Nickel Snaps


Cut with a shorter, traditional vest length
Five outside pockets
Two Interior Leather Pockets (Cell & Wallet Flap)
One inside zipper pocket
Full leather back


Unique Serial-number Embossed On Each Vest




LIMITED EDITION | BLACK LABEL No.101
Less Than (50) Made
SKU: 6216-HUK


Vest length: 24-27" (measured from base of neck) Tall Cuts: Add 1.5"


Designed In USA | Hand-Crafted & Built In Mexico




Click Here to view our sizing chart & Information Page
---