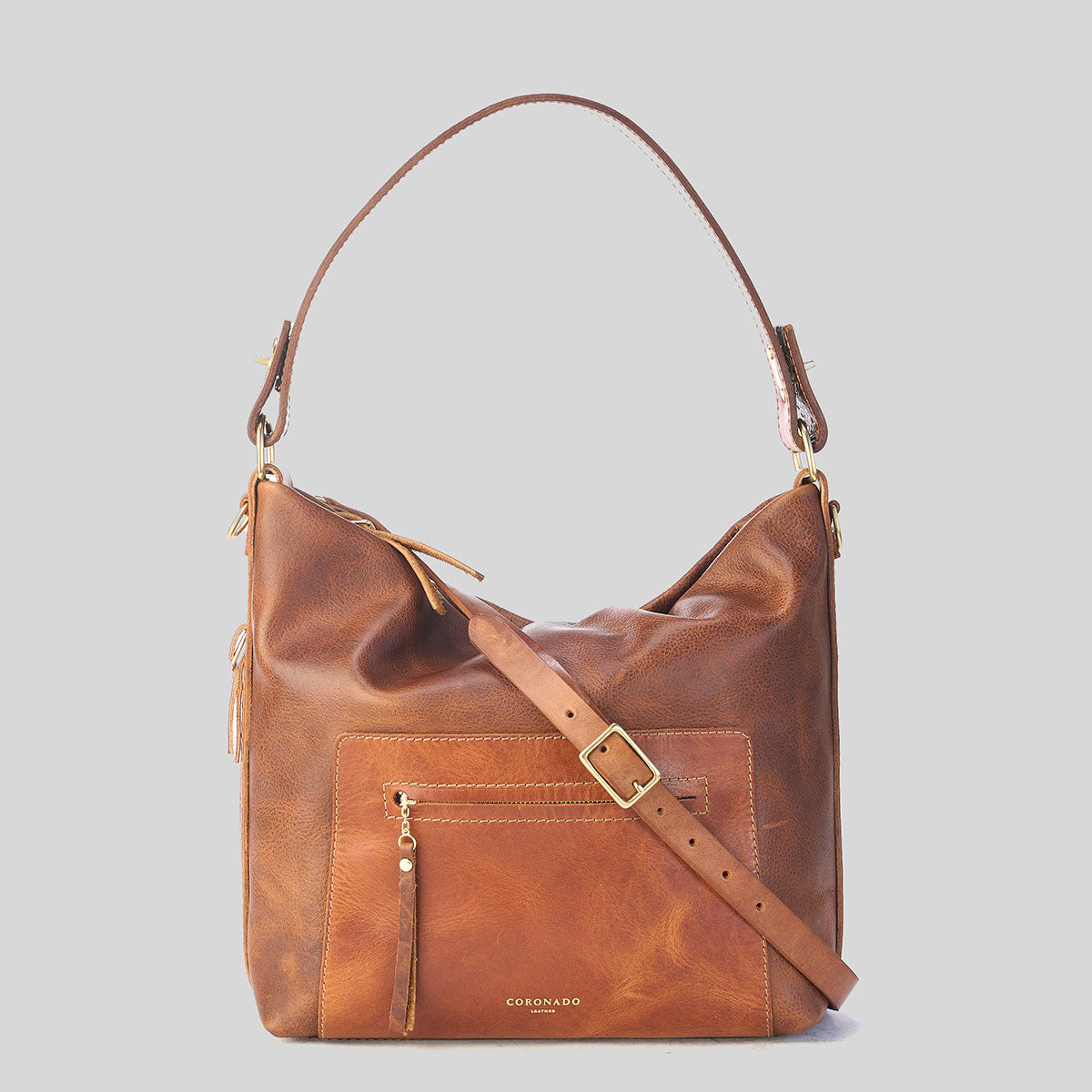 Jean Bison Pocket Hobo | L.E.
Our classic and best-selling hobo silhouette made in a Limited Edition Saddle Tan Bison. Built in our San Diego shop from a LIMITED EDITION American Bison leather in our antique finish and saddle color. Trimmed with chestnut colored
Horween® leather details, pocket & strap.
 Features a front zipper pocket, leather tassel pulls and our signature key-locking CCW pocket.   
An over the shoulder strap or adjustable removable cross carry strap makes this a versatile day-to-night solution. A spacious interior with an outside zipper pocket for easy access, one internal brass zipper pocket and a leather card  all help to keep the interior organized. 
LIMITED EDITION | Only x30 Built

Genuine American Bison Leather (Antique Saddle)
Horween® Chestnut Veg-Tanned Leather Pocket, Trim & Strap (USA)
Hardware: Solid Brass Hardware & Brass Zipper
Lining: Stain-repellent (poly/cotton) 6oz. lining


One main compartment
Main compartment with brass zipper
Inside brass zipper pocket & leather card slot
Outside Horween® leather zipper pocket
Removable & adjustable cross carry strap (¾" x 48")
Detachable 1-3/4" wide short hobo-strap
Key-locking CCW zipper pocket, ballistic Nylon lined
Includes our removable/adjustable nylon retention holster
12" x 12" x 4 ½"
SKU:  C499-BLE
Made In USA & GUARANTEED FOR LIFE
---



CLASSIC CCW HANDBAG COLLECTION
In 1981, we started making women's handbags and few years later our first CCW handbag was created. We are proud of our roots, the journey we've taken, and the improvements we've made. We've pushed ourselves to design and improve our craftsmanship, while staying true to our roots as a USA based, family owned business.
Our Classic Collection of CCW Handbags are made in the USA. The timeless designs  showcases over 30 years of leadership in the conceal carry handbag market. Our Classic Collection allow women to carry with style and confidence.