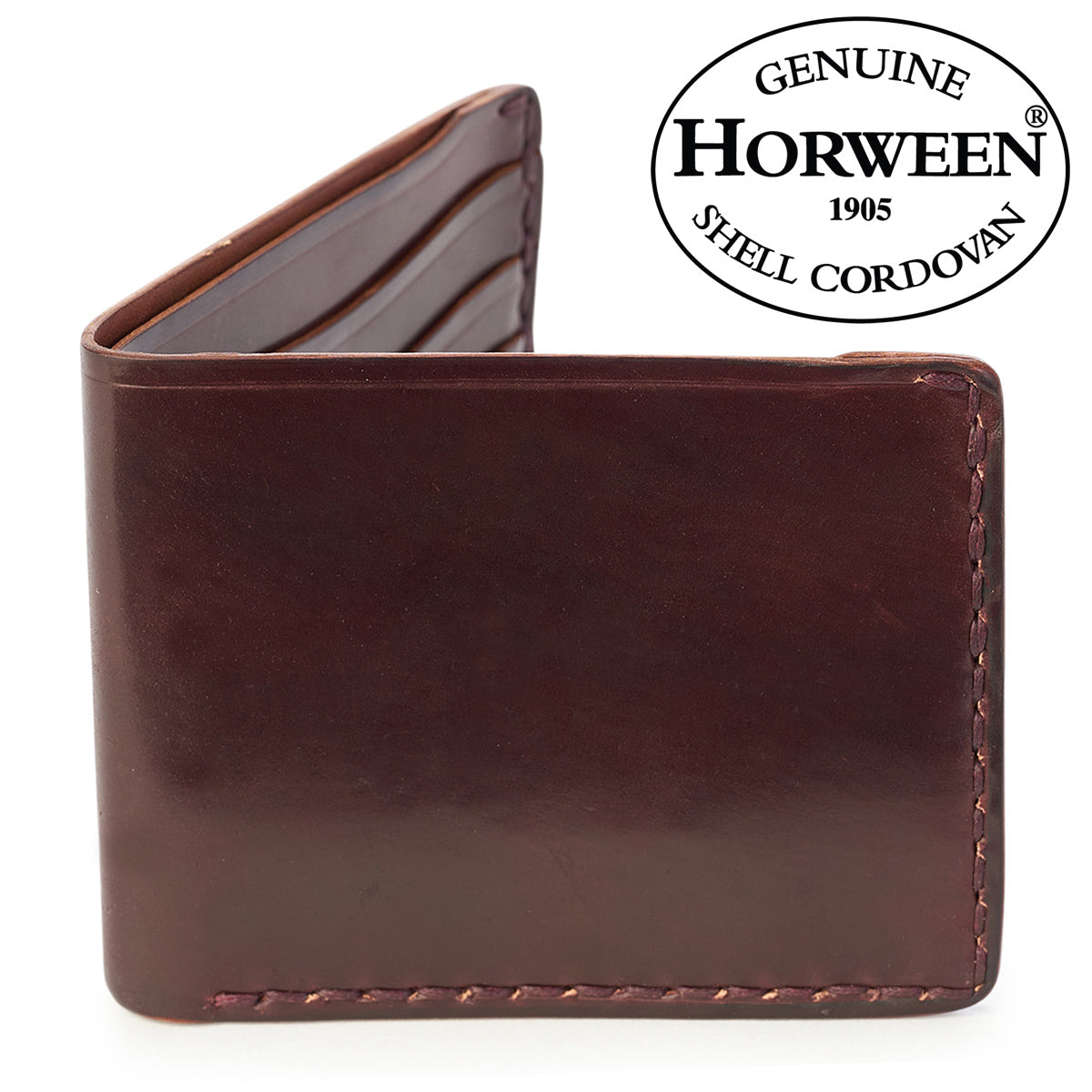 Horween® Shell Cordovan Wallet No.32
Our classic 6-card billfold style wallet made from genuine Horween® Shell Cordovan. 
Each wallet is individually gold-foil embossed with a unique serial#, then saddle-stitched completely by hand with imported Spanish thread. The edges are carefully beveled, sanded, stained and waxed to give them a smooth, rounded edge. The wallet is un-lined by design, to outlive the common fabric lined wallet. It is made with Horween's famous Shell Cordovan leather, showcasing it's unique shine and unmatched durability. Read more about genuine Horween Shell Cordovan below.

DESIGNED, TANNED & BUILT IN USA
Horween® Genuine Shell Cordovan (USA)
Spanish Hand-Sewing Waxed Thread (SPAIN)

6 card design with horizontal bill slot
Dimensions: 4 ⅜ " x 3 ½ "
Individual Serial Numbered
SKU: HC32

100% Hand-Sewn & Saddle-Stitched
Edges stained, burnished & waxed by hand
Hand marked key-lined details
Individually Serial Numbered (Logged & Permanent)
LIMITED QUANTITIES MADE
Made In USA
GENUINE HORWEEN® SHELL CORDOVAN
Tanned In Chicago, IL Since 1905 
Genuine Horween® Shell Cordovan is quite possible the finest leather in the world. Unique in many ways, shell cordovan is known for it's extreme durability, extraordinary bright luster and glass-like surface and the rich cordovan aroma.
The entire tanning process goes through around 100-processes and takes a full 6-months to complete tan, making this the ultimate "Artisan Tanned Leather".  Cordovan is more than just a color, it is a very specific leather from the "butt" of a horsehide.  The oval shaped shells are tanned, stuffed, shaved, and then polished over six months. 
Each shell is slowly steeped in gentle vegetable liquors then hot stuffed & slicked onto glass frames to dry.  They are hand curried and shaved by highly skilled artisans to expose the shell and the dyes are hand rubbed on for a deep aniline finish. Finally, the shells are hand glazed to achieve the rich, glossy look and feel prized by fine craftsmen.