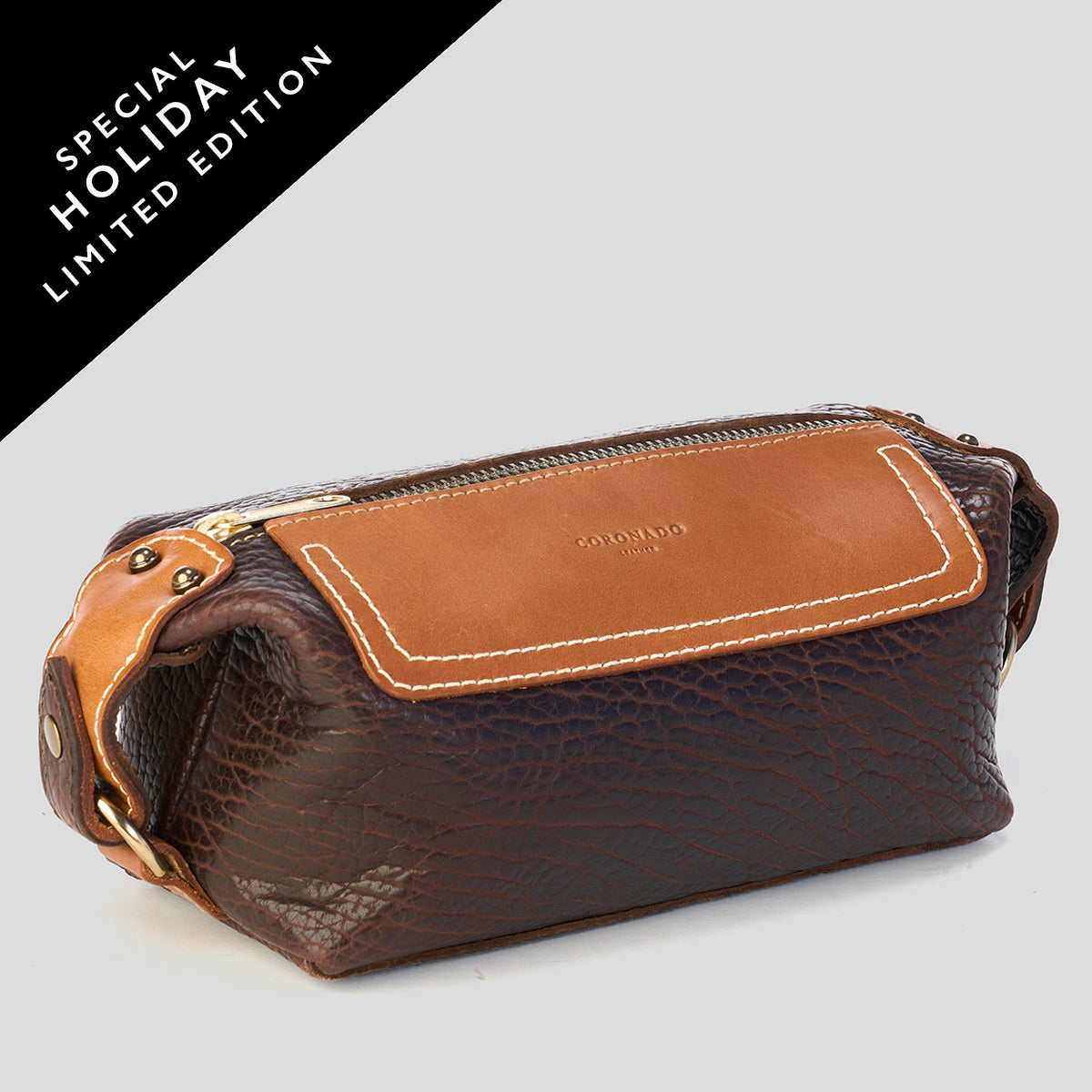 Jackson Bison Dopp No.190 | Brown LE x 20
Our NEW Jackson Bison Dopp No.290 is a part of our NEW Limited Edition Collection for Holiday 2022.  Made from
a rich "Chocolate Brown" shrunken bison and trimmed with english tan, vegetable tanned bridle leather. 
The size will easily hold full size essentials and the internal zip compartment helps keep small items organized. Perfect travel companion with our Bison duffels. 
JACKSON COLLECTION | Limited Edition Collection
The Limited Edition Jackson Bison Collection was introduced for Holliday 2022, with less than (30) made in each piece this season. Built from our signature shrunken bison leather in "Chocolate Brown" and a premium vegetable tanned bridle leather for the handles, straps & trim. The color contrast makes
 for a timeless and very classic combination that you can use in any setting. 
The panels, trims, handles & straps are all polished, waxed and stained by hand with precision and care. The rivets are hand-set and all the hardware is solid brass. 
The entire collection is built in our California leather shop, with quality and attention to detail that is second to none. 
Made In USA & Guaranteed For Life
US Tanned Genuine American Bison Leather-Chocolate (5-6oz)
English Tan Bridle Leather Trim (8-9oz.)
Solid Brass Hardware
Heavy YKK Brass Zipper #10 (USA)
5.5oz. Khaki Twill Lining (Cotton/Poly)

One Main Compartment
Inside Zipper Pocket
Inside Card Slot
Side Care/Cinch Handles
Dimensions: 10" x 5" x 4.5"
SKU: BC290
Individually Serial Numbered (Logged & Permanent)
Made In USA 
---


SHRUNKEN AMERICAN BISON LEATHER (USA)
Our "Shrunken" American Bison is one of our favorite and most unique leathers. The hides are chrome and vegetable re-tanned in Milwaukee, Wisconsin (USA) from bison hides that originated in North America. The leather goes through a complex tanning process that shrinks the hide to enhance the already bold natural grain of bison. The hides are sprayed with a wax prior to applying a touch on a "hot chromed mirror plate" to give them a unique, glassy sheen. The pebbled grain is not compromised and is 100% natural. 

The finish of the leather has a subtle but sleek sheen with a two-toned "tipping" effect in the color. In our classic "Walnut" color you will see browns & tans all in the same hide. It is a full 6/7oz. in weight and like most bison leathers, extremely durable. All tanned and finished in the USA.
Learn more about our signature Shrunken Bison leather