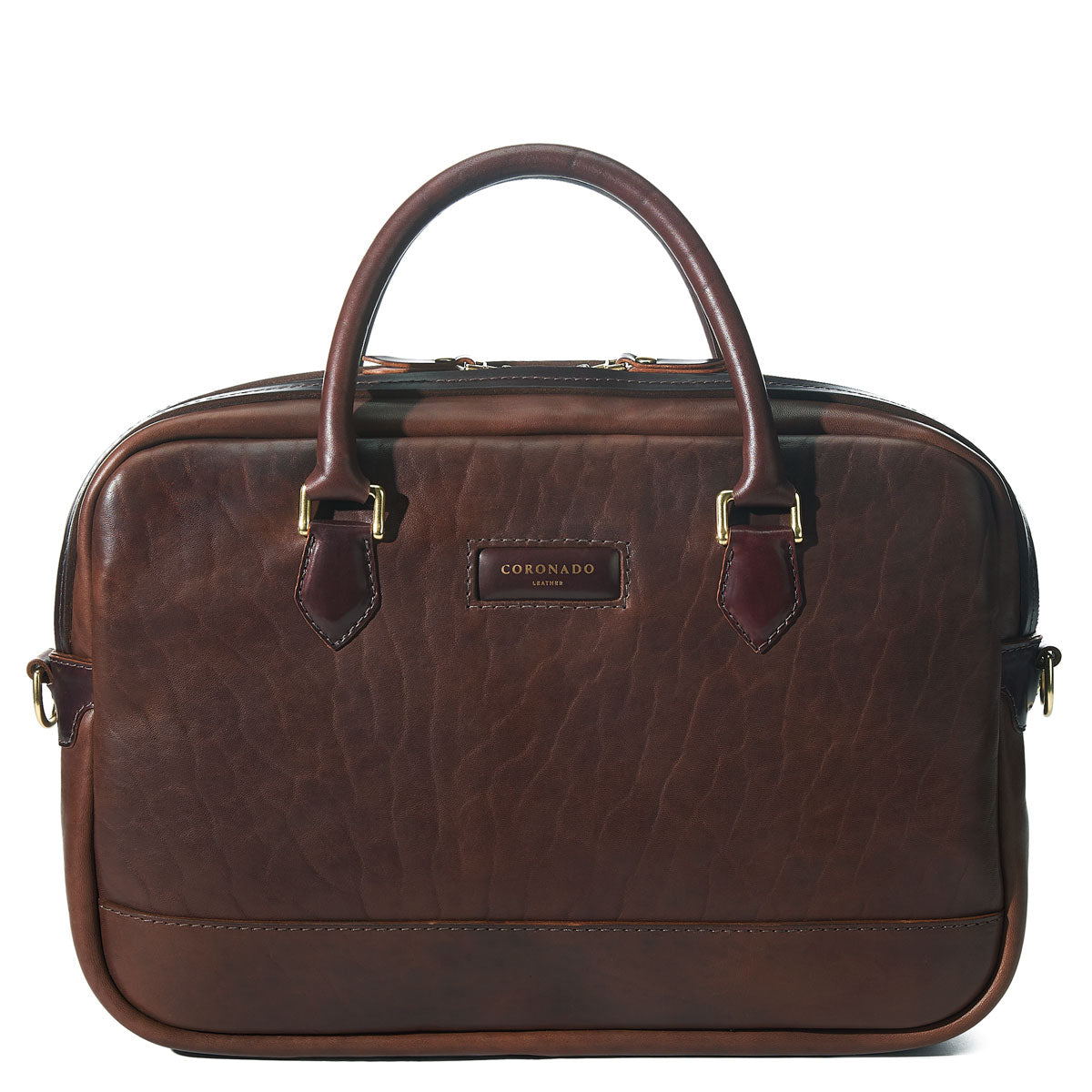 Horsehide Briefcase #110 (LE)
Designed to be classic, streamlined and functional with full-length inside zipper pockets, utility pockets and and brass swivel for your pouch or keys.  The shape is slightly rounded with hand-sewn handles and Horween Shell Cordovan accents.  We added some unique details like a camouflaged, waxed canvas inside lining, inside leather lanyard/swivel for pouch and our signature key-locking CCW pocket for safe and secure concealed-carry. 

THE LEATHERS
We start with a truly amazing leather.  A genuine horsehide leather tanned for us by HORWEEN in Chicago, IL. This unique leather tannage is a matte black with an undertone of brown. To top things off, we trim the bag with Horween Shell Cordovan, one of the most sought after and most expensive leathers in the world.  The glass-like shine and extreme durability is a perfect contrast with the matte-black horsehide body. 
Features
Horween Horsehide Body (4-5oz.)
Key-locking concealed-carry pocket & holster
Horween Shell Cordovan Accent Pieces
Hand-stitched, stained & waxed carry handles
LE Product - Individual Serial#
Details
Dimensions: 15" x 11" x 3"
Strap: 44" made of Horween® Latigo Leather with pad
LIMITED EDITION & SERIAL # | Made In USA
SKU: PH110BK
Materials
Leather: Horween® Horsehide (5oz.)
Leather: Horween® Shell Cordovan
Hardware: Solid Brass
Zipper: Ykk USA #10 Brass
Lining: 8oz. camouflage cotton lining
PIONEER SHOP
The Pioneer Shop is our retail direct "customer-funded" product platform created to bring new designs, limited-edition products & customer inspired items directly to you faster and at lower pre-sale prices.
Our Pioneer Shop will offer products that are unique in design, leather or function for men and women. This is where we will introduce interesting colors, new designs and unique leathers outside of our core materials.
Each campaign will be offered in either a "Limited Edition" with a set quantity made OR as a "Pre-Sale" campaign with limited-time to order. The campaign offering will run for 10-13 days and the SHIP DATE will be clearly stated on the product page. It's that simple! The best part is you are getting manufacturer-direct pricing and some great products that you won't find anywhere else.