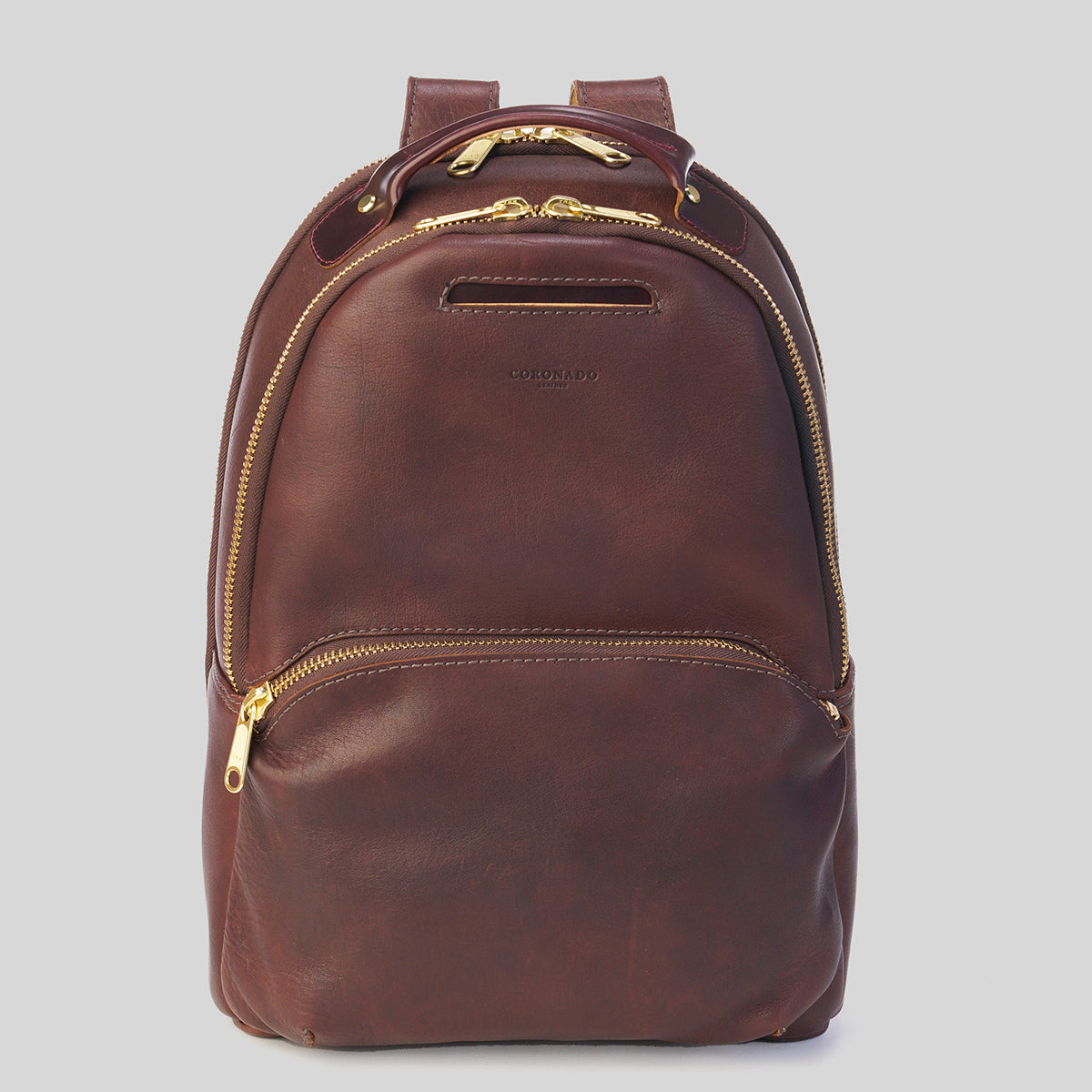 Clark Backpack No. 952 | LE Brown x6
Introducing our NEW and re-designed Clark Backpack No. 952, the ultimate work & travel backpack. 100% designed and produced in our San Diego leather shop with more than 40-unique pieces, this our most intense and detailed product to build. The Clark No.952 is a perfect balance of style, function and durability. The design is deceivingly compact, visually.  The tapered front face and sleek design has the capacity to carry a complete workload, including a 17" laptop, notebooks, legal files, pouches and even a light change of clothes if needed. The overall weight is less than 4 lbs, which is considerably light-weight for a stout Horween® leather bag.

The Clark is built from a full-grain (5-6oz.) Horween® vegetable tanned leather. Our Horween® Heritage leather has an incredibly soft and supple hand-feel with a natural pebble grain and and that amazing Horween® leather aroma! The hides are infused with premium waxes and oils to protect the surface and improve the touch of the leather. 
HORWEEN® SHELL CORDOVAN (Trim & Accents) | LIMITED EDITION
In this Dark Brown Limited Edition version, we used Horween® leathers famous Shell Cordovan on the top carry handle, back mounting patch and other small trim sections of the backpack. 

Other features include a back panel made from premium, plaid Japanese shirting fabric in a heavy weight (10oz.). The panel is reinforced to stand up to the leather and aside from simply looking great, it takes some weight off the backpack as well. Designed with organization in mind, the two main compartments are full-zip arounds for easy access and fully lined. There is a back laptop sleeve opening and a utility pocket for pens, cables and other accessories. The front pocket is gusseted for extra space and leather backed for durability and the back straps are double layered leather (stitched back to back) with premium cotton webbing (Made in Belgium) at the bottom for adjustability. A smart, sharp and handsome backpack exclusively designed by Coronado Leather and tanned and built in USA.

LIMITED EDITION SERIES | 100% Designed, Tanned & Built In USA

Materials
Features 

Details
Horween®Heritage Leather (5-6oz.)
Horween® Shell Cordovan (Trim)
Solid Brass #10 Ykk USA Zippers (USA)
12oz. Premium Cotton Plaid Shirt Fabric (Japan) 
Heavy-Duty 138-Bonded Nylon Thread (USA)
Premium 1-1/2" Cotton Webbing Straps (Belgium)
Solid Brass Zippers & Hardware

DIMENSIONS: 13" x 5" x  17"

Riveted Stress Points

Multiple, Separated Compartments

Made In USA


LIMITED EDITION FIRST EDITION: x6 Built

SKU: 9952




Two Main Top Compartments
10 1/2" Inside Padded Laptop Sleeve Pocket
1" x 7" Top Leather Handle
12" x 7 1/2" Front Zipper Pocket
4 1/2" Top Front Pocket
1-½" x 10" - 23" Adjustable Strap
Inside Zipper Pocket
Inside Utility Panel
Individual Serial Numbered 
---


HORWEEN® CUSTOM HERITAGE STEERHIDE
Tanned In Chicago Since 1905
Horween Leather Company has been tanning leather in Chicago, IL for more than 100-years (Since 1905). They are five generation, family run company that we are proud to be working with. As true artisans of their craft, they are recognized world-wide as one of the premier tanners of leathers like horsehide, shell cordovan, football leather, basketball & baseball leather and more. Today, their leathers are still made by hand, the same way as generations ago.
The Clark Backpack is tanned from our custom "Heritage"Horween® leather. The hides are like no other vegetable tanned leather we have worked with. They have an incredible hand-feel, buttery on the surface but thick and with a natural soft grain. They are lightly waxed to protect the surface, in a supple 5-5.6oz. weight. The hides are traditional artisanal tanned in a labor intensive tanning process that creates a unique leather in an environmentally friendly manner, all in Chicago Illinois since 1905.
Individually marked with a unique 11-digit serial number to validate the authenticity and the time of production and 100% cut & sewn in our San Diego, California leather shop.