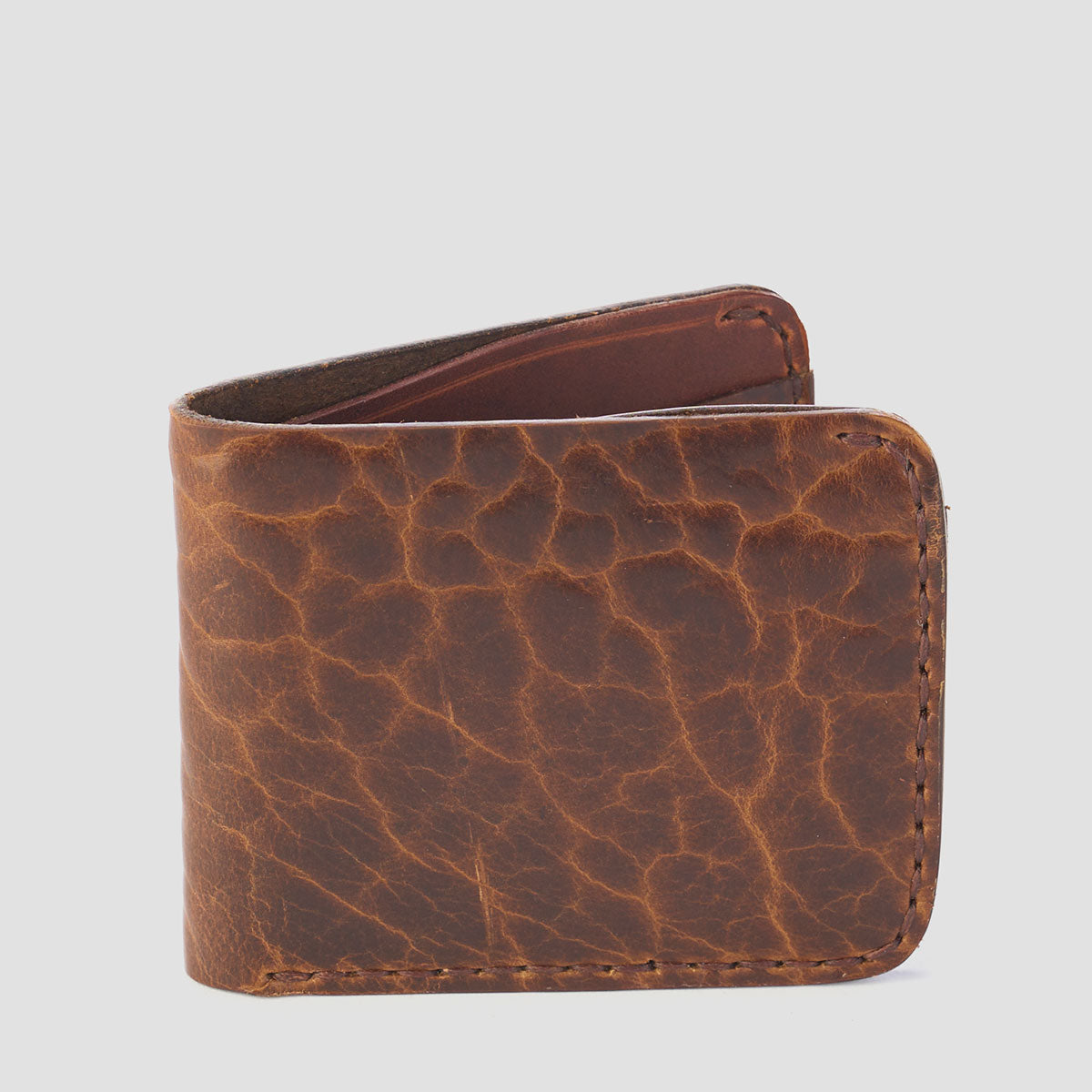 Bison Heritage Billfold No.12
The Bison Heritage Billfold No. 12 is our first hand-sewn wallet made from our signature shrunken American Bison leather and Horween® inside trim.  
A handsome, premium crafted wallet constructed from two unique leathers.  Each billfold is precision die-cut, split to the optimum thickness and reinforced with a clear-coat backing.  They are then hand-sewn with traditional saddle-stitching techniques using heavy-duty Spanish waxed thread. The edges are sanded and beveled, stained and waxed all 100% by hand.
CUT FROM THE NECK/SHOULDER OF THE BISON HIDE 
Each wallet is cut from the larger grain pattern on the "shoulder" of the bison hide. We trim each hide at the shoulder/neck area to maintain better grain consistency. The trimmed shoulder section of the hide is small but has the largest, boldest grain pattern, resembling an exotic skin.  Each wallet is individually embossed and logged with a unique serial# and edge finished by hand.  
* Please note that monogrammed items are not eligible for returns or exchanges


Materials
Features 

Details
Shrunken Americana Bison 6/7oz. (USA)
Horween® Dublin Leather Internal Spine (USA)
Premium Waxed Hand-Sewing Thread (Spain)

100% Handsewn & Traditional Saddle Stitched Construction
Six Card Slot Design
One Main Billfold Pocket
Traditional Saddle Stitched Construction
Hand Sanded, Beveled, Stained & Waxed Edges



Individual Serial Numbered
Dimensions: 4 ¼" X 3 ½"
SKU: 8212
Cut & Hand-Sewn In USA
GUARANTEED FOR LIFE
---
SHRUNKEN AMERICAN BISON LEATHER (USA)

Our "Shrunken" American Bison is one of our favorite and most unique leathers. The hides are chrome and vegetable re-tanned in Milwaukee, Wisconsin (USA) from bison hides that originated in North America. The leather goes through a complex tanning process that shrinks the hide to enhance the already bold natural grain of bison. The hides are sprayed with a wax prior to applying a touch on a "hot chromed mirror plate" to give them a unique, glassy sheen. The pebbled grain is not compromised and is 100% natural.
The finish of the leather has a subtle but sleek sheen with a two-toned "tipping" effect in the color. In our classic "Walnut" color you will see browns & tans all in the same hide. It is a full 6/7oz. in weight and like most bison leathers, extremely durable. All tanned and finished in the USA.