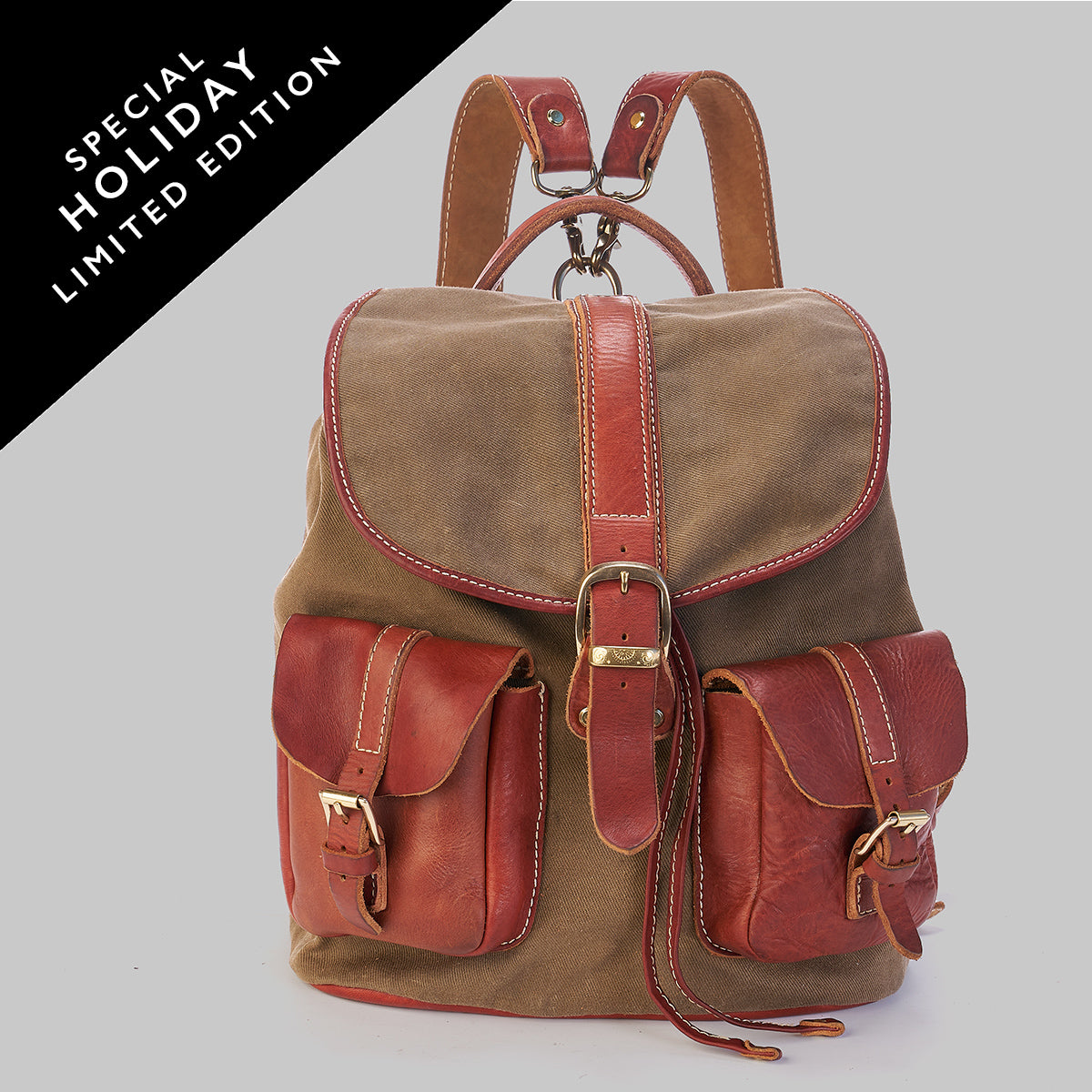 Canvas & Horween® Stone-Washed Rucksack No.180 | NEW
Made expressly for Holiday 2023, The First Edition of the Stone-Washed Rucksack in a heavyweight, 18oz. waxed canvas and Horween® Dublin leather. 
The Rucksack No.180 is an exclusive design inspired by vintage military "Rucksacks" made in the 1940's-60's. The rounded base, bound flap and leather drawstring closures are all features common in those styles. We added our own design details such as a leather internal laptop sleeve, a hanging utility pocket, leather drawstring riveted caps and wide, double layered guitar-style shoulder straps, to name a few.
The NEW Waxed Canvas & Leather version is lighter-weight and the canvas is water-resistant and rugged. A perfect rucksack for travel, hiking or just daily use.  We use our Horween® vegetable-tanned Dublin leather for all the pockets, straps and trim and the bag is stone-washed in Los Angeles after assembly.  The stone-washing gives each rucksack its own authentic and unique appearance. You can read more about the stone-washing below.
FIRST HOLIDAY EDITION | Only (10) Made for delivery early December 2023.
Tanned & Built In USA | Individually Marked & Registered With A 9-Digit Serial#
Details
Features 

The Leather

The Stone-Washing 
Horween® Vegetable Tanned Steerhide (USA)
18oz. Waxed Cotton Canvas 
Solid Brass Hardware (ITALY & USA)
Leather Internal Pockets
Individual Internal Serial# (Marked & Logged)
Designed & Built In USA
15" x 12" x 5"
SKU: V180

Open main compartment with wide top opening
Leather draw-string top closure and front flap closure with buckle
Two front pockets with buckle closure
Inside Leather Laptop Pocket
Inside Leather Zipper Pocket
Inside Hanging Leather Utility Pocket (3 pockets)
Removable Leather Straps (Double Layered Belt Style




Our Stone-Washed products are built from Horween® leather. A historic tannery that has been operating in Chicago, Illinois for more than 100-years. The leather is a 100% vegetable tanned steerhide, tanned with natural tree barks and other organic materials. The process is more environmentally friendly while giving the leather a more natural, look, feel and aroma. 


After the products are built, we drive them to the premier "wash house" in Los Angles that stone-washes denim jeans for the largest and best denim brands in the US. The products are then stone-washed, rinsed and dried in the California sun. Over the next 2-3 days we shape, oil and condition them by hand, one-by-one. A process that cannot be done fast, only right. During these days, the leather softens, the edges darken and the flaps roll over to create a distinctly unique and incredibly authentic product that appears aged and worn. The entire process, starting from leathers we use, starts and ends in the USA. The leather is tanned in Chicago, the bags are built in San Diego and stone-washed in Los Angeles. A unique process that we pioneered and perfected over the last 10-years.
---
HORWEEN® LEATHER | Tanned In Chicago Since 1905

Horween Leather Company has been tanning leather in Chicago, IL for more than 100-years (Since 1905). They are five generation, family run company that we are proud to be working with. As true artisans of their craft, they are recognized world-wide as one of the premier tanners of leathers like horsehide, shell cordovan, football leather, basketball & baseball leather and more. Today, their leathers are still made by hand, the same way as generations ago.