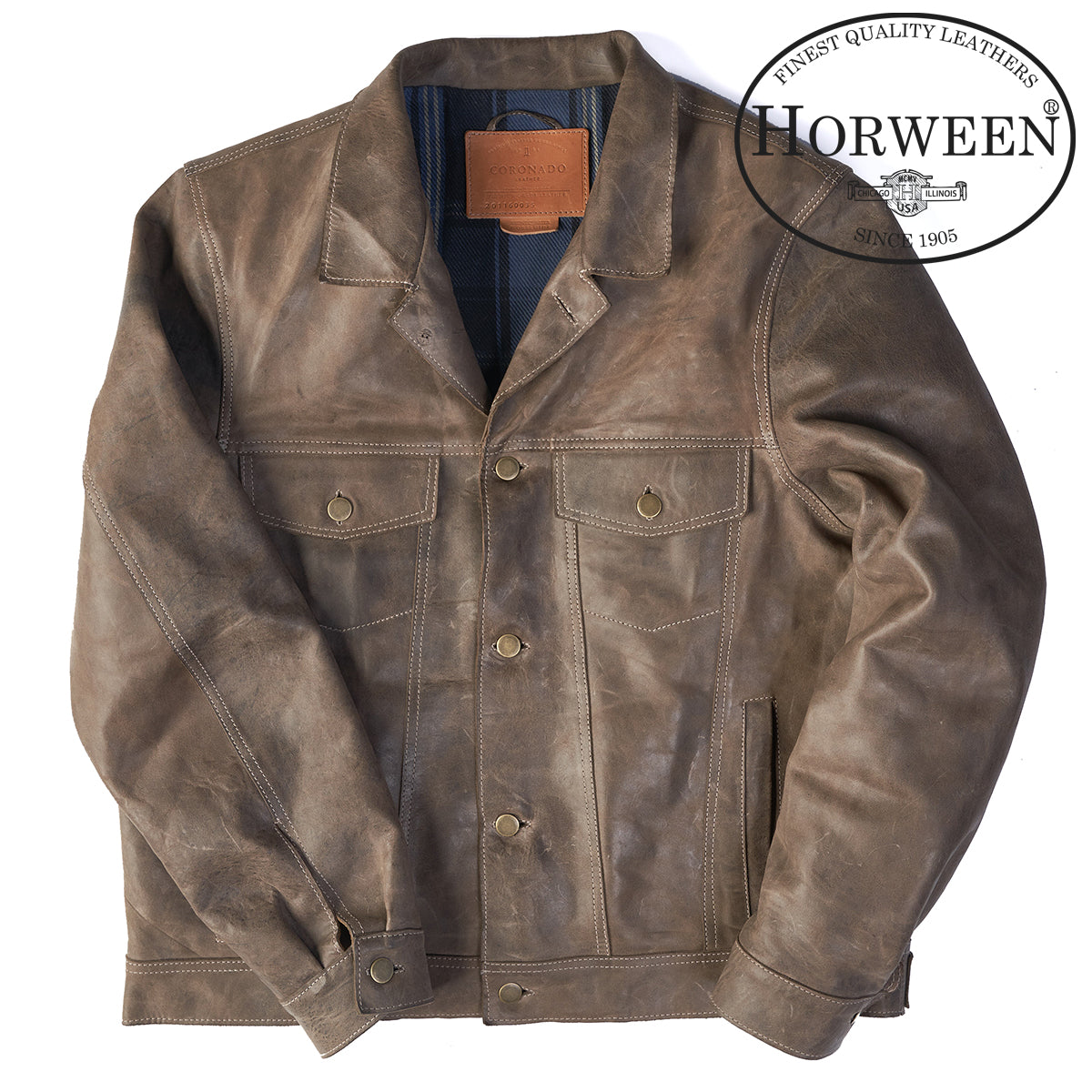 Vintage Horsehide Dean No. 71
The No. 71 Dean Horsehide Jacket is another very special product.  The EXCLUSIVE design is our second-edition horsehide jacket. Completely hand-cut from a custom tanned front-quarter horsehide leather made exclusively for Coronado Leather by Horween of Chicago. First introduced in the 1960's, the iconic and timeless "Trucker" jacket has been made by designers for decades now.  The style and cut will never NOT be cool, especially when made from an amazing leather like Horween Horsehide.  
The color is a very cool,  distressed "Charcoal Brown" shade that has been "vintaged" with waxes and extra tumbling in large wooden drums.  We lined the jacket with a 8oz. cotton plaid "shirting fabric" that is imported from a famous Japanese mill. The edges of the jacket are mostly raw-edge designed for a vintage appeal, front Ykk USA brass tack buttons and a full one-piece back panel all make this jacket truly unique.  
Each jacket will have a unique serial# sewn into the liner to validate the authenticity and date of production.  The production will be limited to less than (50) jackets.
LIMITED EDITION LEATHER & STYLE | Less Than (50) Made

The Materials
The Details
The Features
3-3.5 oz. Horween Front-Quarter Vintage Horseshide (Chicago, IL)
8oz. Japanese Cotton Plaid Liner (Japan)
Brass Ykk Tack-Buttons (Japan)


Back Length 26-28"
Individual Serial# Sewn Into Liner
(2) 6" Slanted Hand Pockets
(2) Upper Chest Pockets
Inside Wallet, Inside Cell Pocket
Designed In California & Made In Mexico
SKU: 711020


Raw-Edge Vintage Construction
Large-Panel (1-Piece) Back 
Contrasting Bonded Nylon Beige Thread
EXCLUSIVE Custom Design & Custom Tanned Leather
---
HORWEEN FRONT-QUARTER HORSEHIDE
Since 1905 | Chicago, IL

Horween front-quarter horsehide
leather is widely recognized as one of the finest jacket leathers available today
. The hides are a comfortable 3-3.5
oz. but with the tensile strength of a much heavier hide. The fiber structure of horsehide is different than cow or steer hide, with a tighter grain that has much less stretch and a naturally smooth grain. The "Vintage" horsehide is tanned with premium waxes & oils that give the hide a unique, distressed appearance.
Horween Leather Company has been tanning leather in Chicago, IL for more than 100-years. They are a five generation, family run company that we are proud to be working with. They are true artisans of their craft and recognized world-wide as one of the premier tanners of leathers like horsehide, shell cordovan, football leather, basketball leather and more. Today, their leathers are still made by hand, the same way as generations ago.