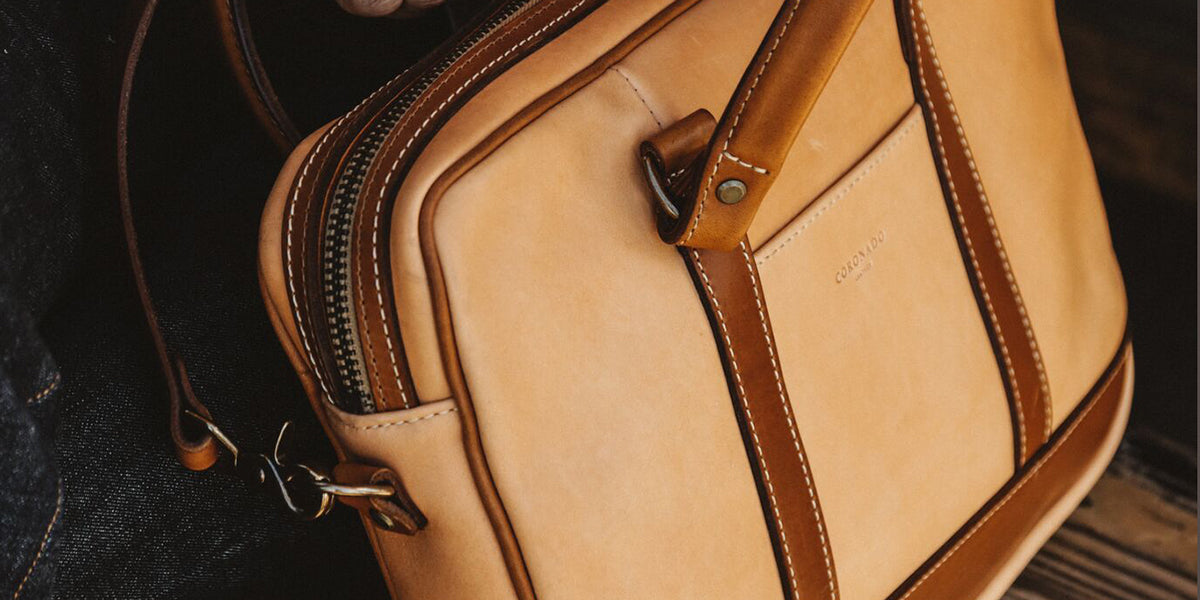 Natural Essex Collection | PIONEER SHOP
NATURAL ESSEX COLLECTION  |   Pioneer Shop (Sep 12-25th)
One of my earliest memories of what I wanted to create in leathergoods, was inspired from the original COACH bags made in the 1960-70's. Back then, they were actually made in their New York City factory (which was closed years ago).  The designs were classic with minimal panels, rich, smooth "glove-tanned" leather and American craftsmanship.
Our NEW Essex Collection is built on those standards but with some modern contrast and flare. We started with a leather that I wanted to use for years.  A natural, vegetable-tanned leather from the world-renowned HORWEEN tannery in Chicago. Essex leather is what most people would consider "glove-tanned" leather. It is smooth, supple and "glove-soft". The beauty of the leather really is not fully recognized until it "patina's" or breaks-in, especially with a natural color like this,  It will darken and age like a good baseball mitt.
We trim and strap the bags with Horween Latigo, in a contrasting tan color.  The edges are hand-stained and polished, we use two unique thread colors and sizes to give the bags a unique appearance and finish with solid-brass (antiqued) hardware.  Each bag is crafted by hand in our San Diego, California leather shop using American tanned leathers from HORWEEN,
HORWEEN Essex Leather
Tanned by Horween in Chicago, Illinois since 1905, Essex is a combination of new & old technologies.  It is a full vegetable tannage that utilizes the same traditional tanning extracts as their famous Genuine Shell Cordovan.  Using their proprietary tanning formulas of fats, oils, tree barks and other natural elements, the leather is uniquely durable with softness and a rich, round fell. Our version is softly bleached to make it a true "natural" color.  The light, natural tone will darken and "patina" over time, so the best way to appreciate this leather is to "Embrace" the natural beauty of the color.

PIONEER SHOP CAMPAIGN  |   September 12 - 25th
We are proudly offering our NEW Essex Collection in "Limited Quantities" on our Pioneer Shop through September 25th. Expertly designed & built for men or women.