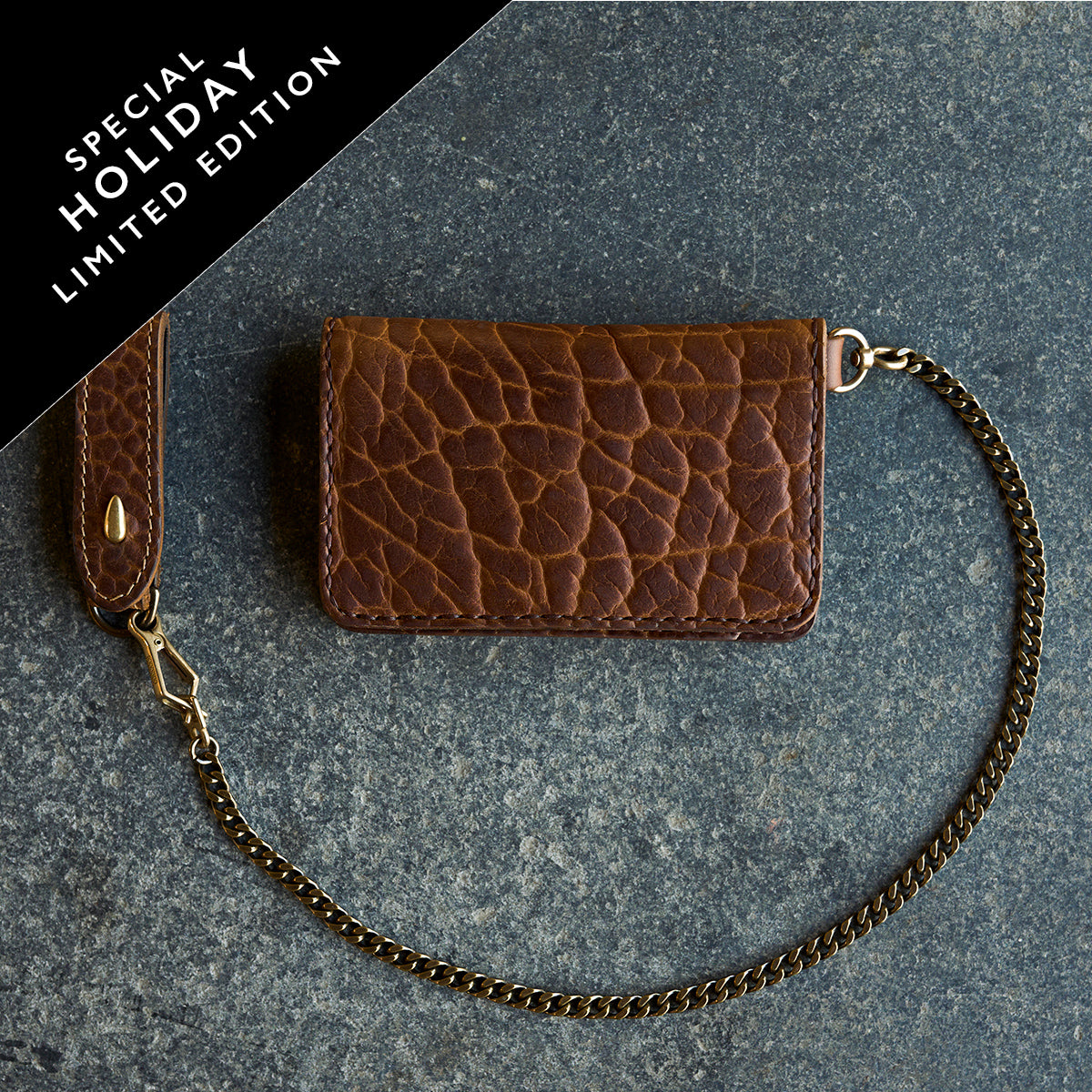 Bison & Horsehide International Wallet No.81 | L.E. x 15
Our exclusive design and only available through our online store. The International Wallet  is like no wallet you have ever owned. It is more of a man's folio wallet capable of carrying multiple currencies, passport, coins and credit-cards all in an organized and secure manner. The polished-brass chain and custom Italian hardware set this apart from most wallets.

CUT FROM THE NECK/SHOULDER OF THE BISON HIDE 
Each wallet is cut from the larger grain pattern on the "shoulder" of the bison hide. We trim each hide at the shoulder/neck area to maintain better grain consistency. The trimmed shoulder section of the hide is small but has the largest, boldest grain pattern, resembling an exotic skin. 
The wallet is precision-cut with steel dies then 100% hand-sewn with old-world, traditional saddle-stitching construction and ultra-heavy waxed Spanish thread. The edges are sanded, polished and waxed and each wallet is marked with a unique 9-digit serial number to authenticate the date of construction. An heirloom quality wallet that will live with you for decades. Includes the solid-brass chain and leather belt keeper. 
Limited Edition Wallet Made For Holiday 2022 (In-Stock): Only 15 Made 
Genuine Shrunken Bison (USA)
Horween® Horsehide Inside Pockets (USA)
Premium solid-brass 4-sided flat chain
Custom solid brass Italian hardware
Leather belt keeper
Premium braided hand-sewing thread from Spain


2 card slots
5" Zipper Pocket
Coin/Card Pouch
Passport/Notepad SLot
Dimensions Closed: 6-1/8" x 4"
Dimensions Open: 6-1/8 " x 8"
Individual Serial Numbered
SKU: 3981-BBR

100% Hand-Sewn & Saddle-Stitched
Removable Brass Chain
Edges stained, burnished & waxed by hand
Individually Serial Numbered (Logged & Permanent)
LIMITED QUANTITIES MADE (x15 Holiday 2022)
Made In USA
GENUINE SHRUNKEN BISON SHOULDERS &
HORWEEN® HORSEHIDE INTERIOR

Known for its  durability, bold natural pebbled grain and rugged appearance, bison leather is special and unique. Remember that the majority of bison are free-range and roaming. They fight within heards, run into barded-wire & trees and are exposed to other natural elements. Because of this, the hides are rugged, scarred and tanned with these natural. characteristics. It's truly what makes American Bison leather so unique. Please consider this when purchasing bison leather, it is nothing like steerhide, horsehide or lambskin.