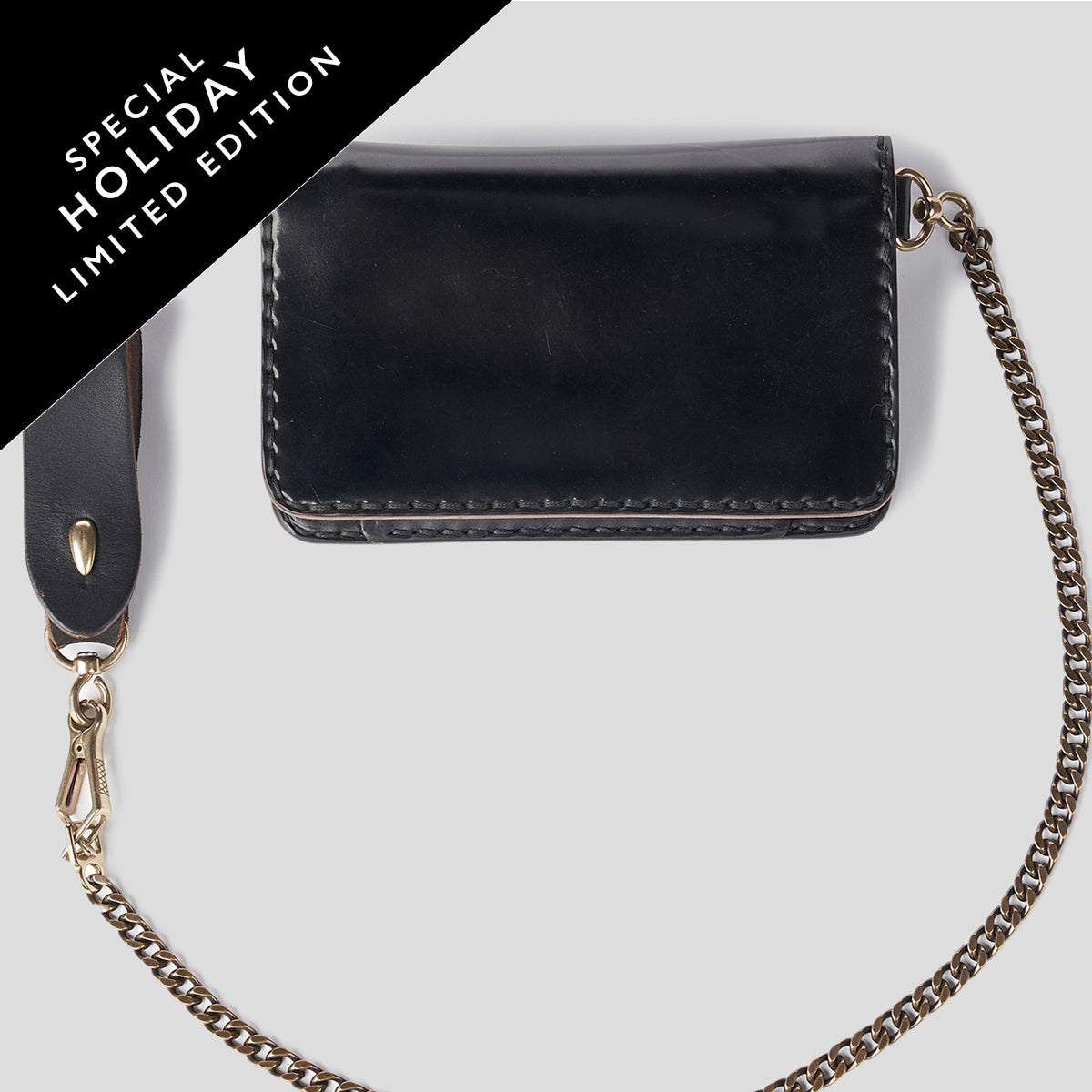 Horween Shell International Wallet No.81
The International Wallet  is like no wallet you have ever owned. It is more of a man's folio wallet capable of carrying multiple currencies, passport, coins and credit-cards all in an organized and secure manner. The polished-brass chain and custom Italian hardware set this apart from most wallets.
Includes the removable chain & matching leather belt keeper
Each wallet is individually gold-foil embossed with a unique serial#, then saddle-stitched completely by hand with imported Spanish thread. The edges are carefully beveled, sanded, stained and waxed to give them a smooth, rounded edge. The unlined body was designed to outlive the "traditional" wallet, with a 100% Shell Cordovan body. After finishing they are hand-waxed on the edges and polished before shipping. 
Limited Edition Wallet (Holiday 2022 PRE-SALE): Only 10 Made 
SHIPS BY Dec-1, 2022
Horween® Genuine Shell Cordovan (USA)
Horween® Horsehide Interior
Brass Ykk USA Vintage Brass Zipper
Spanish Hand-Sewing Waxed Thread (SPAIN)
Solid-Brass Custom Hardware (ITALY)
Antique Solid-Brass Chain

2 card slots
5" Zipper Pocket
Coin/Card Pouch
Passport/Notepad Slot
Dimensions Closed: 6-1/8" x 4"
Dimensions Open: 6-1/8 " x 8"
Individual Serial Numbered
SKU: 3981-HSK

100% Hand-Sewn & Saddle-Stitched
Removable Brass Chain
Edges stained, burnished & waxed by hand
Hand marked key-lined details
Individually Serial Numbered (Logged & Permanent)
LIMITED QUANTITIES MADE
Made In USA
GENUINE HORWEEN® SHELL CORDOVAN
Tanned In Chicago, IL Since 1905 
Genuine Horween® Shell Cordovan is quite possible the finest leather in the world. Unique in many ways, shell cordovan is known for it's extreme durability, extraordinary bright luster and glass-like surface and the rich cordovan aroma.
The entire tanning process goes through around 100-processes and takes a full 6-months to complete tan, making this the ultimate "Artisan Tanned Leather".  Cordovan is more than just a color, it is a very specific leather from the "butt" of a horsehide.  The oval shaped shells are tanned, stuffed, shaved, and then polished over six months. 
Each shell is slowly steeped in gentle vegetable liquors then hot stuffed & slicked onto glass frames to dry.  They are hand curried and shaved by highly skilled artisans to expose the shell and the dyes are hand rubbed on for a deep aniline finish. Finally, the shells are hand glazed to achieve the rich, glossy look and feel prized by fine craftsmen.