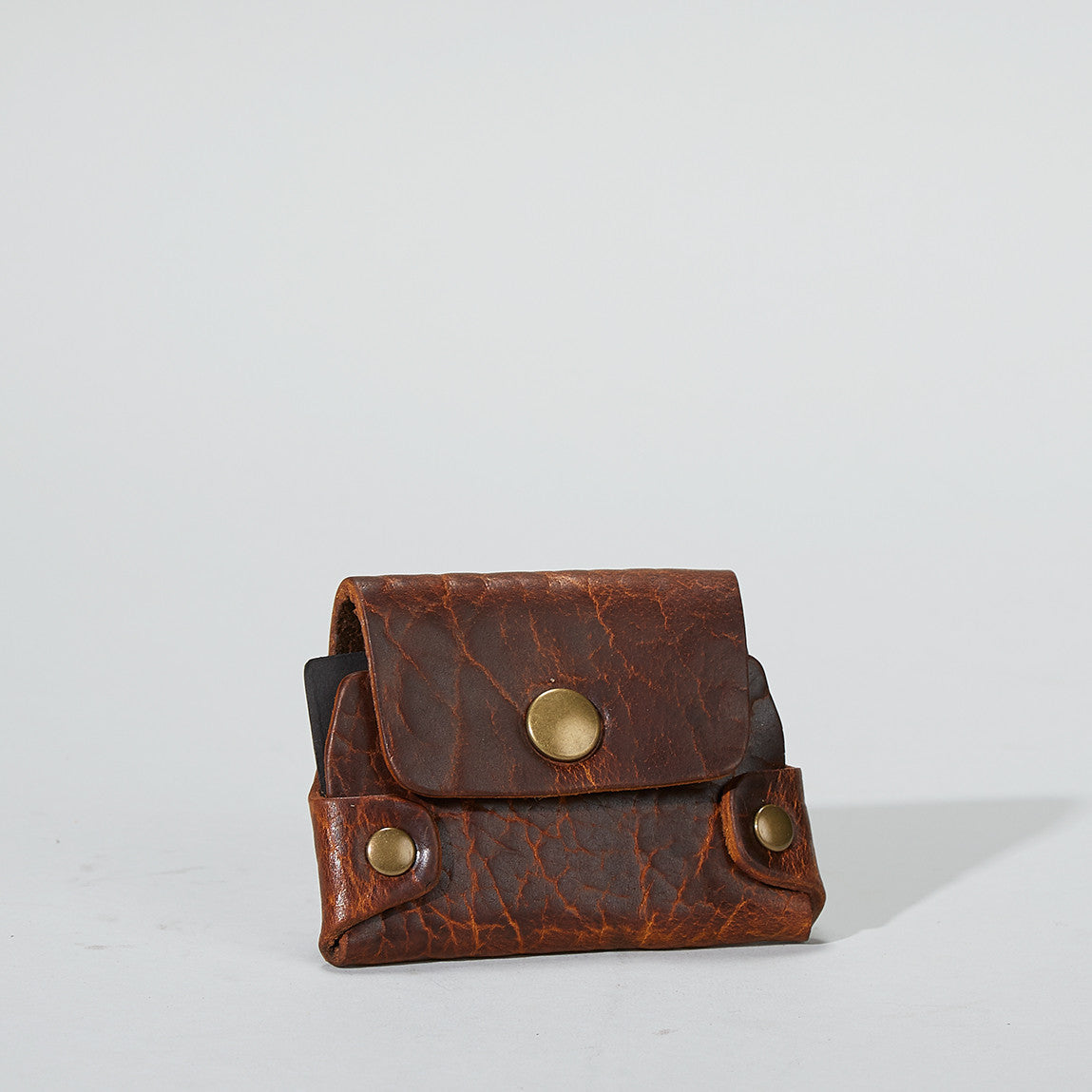 Bison Cash & Card Wallet #652
 Carry your cash and cards in this simple sleeve. Designed to eliminate seams and maximize every centimeter of the Bison leather, this wallet is made without any stitching. One piece of Bison is cut and constructed with brass rivets, hand-painted edges and a snap-flap.
PLEASE NOTE:
The American Bison is a free-range, roaming animal known to fight within their herds.  Scarring, natural marks and grain variations are common and prevalent, making each and every hide truly unique.
Features
Securely store up to 8 cards and 20 folded bills
Snap closure
Hand-painted edges
Details
Dimensions: 3 ½" x 3"
Made In USA

Materials
Leather: US Tanned Genuine American Bison Leather (5-6oz)
Hardware: Brass Rivets | Antique (WN) or Nickel (BK)
Lining: Backed leather - unlined
Embossing: Foil | Gold (WN) or Silver (BK)
Bison Collection
The American bison has long been a quintessential part of America's history and the unbridled freedom of our great country. We work closely with our tannery in Milwaukee, Wisconsin to develop a beautiful finish to our exact specifications. The skins go through a detailed shrinking process that accentuates the already bold and textured appearance of the hide, giving this tough and rugged leather a distinct appearance that can't be replicated by any other material.
Our Bison Collection is designed to embrace and showcase the natural scarring and texture variations that make this leather so special. The full collection is crafted by hand from start to finish in our San Diego leather shop, with solid antiqued brass hardware, refined details and CCW pockets where noted.