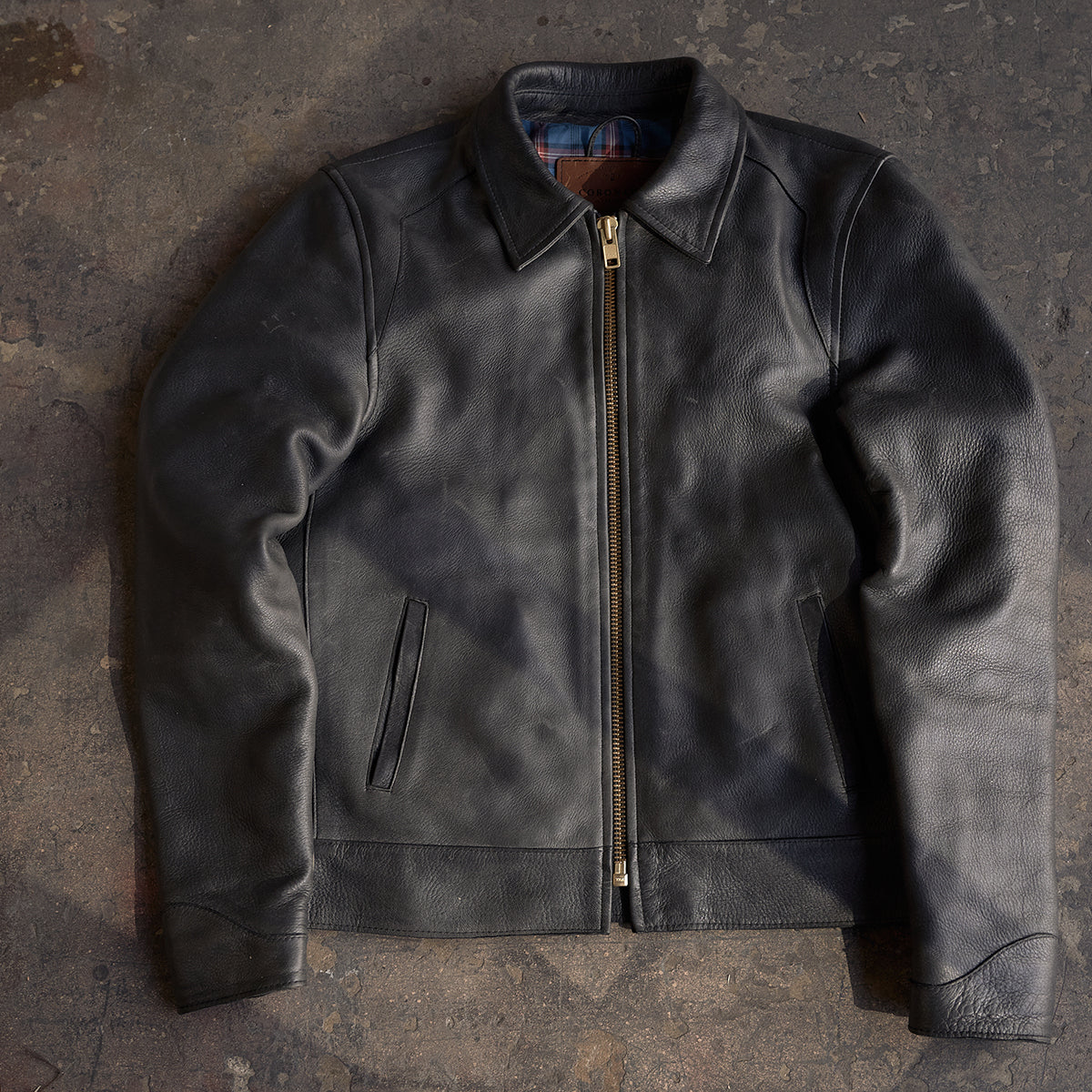 Horween® Deerskin Garrison | SOLD OUT
Update (April 12, 2022): We are pre-selling (15) jackets for delivery in May 2022
Currently SOLD-OUT.  Please email us if interested to be placed on the PRIORITY EMAIL list. 
Our classic "Garrison" jacket made for the first time in an exclusive & limited edition Horween® Deerskin leather with custom Japanese plaid "shirt fabric" lining. Each jacket will be "black labeled" with a unique serial# and only (15) will be made. 
HORWEEN® UTICA DEERKSIN
The hides are part of a very limited-edition tannage from Horween® of Chicago. We have been sampling and working with Horween® for the last six months to get this beautiful leather. They made enough to build less than (50) jackets with no plans to bring back the leather again, as the deerskin is just not always available in a "jacket grade". 
The hand-feel, look and overall temper of this leather is nothing short of spectacular.  It is a naked tannage in a plump 3.5-4oz. weight. The "drape" is what you see in lambskin but with the durability and thickness of deerskin. The hides are naturally pebbled with a matte finish in a charcoal black tone. There is a reason "deerskin" is considered the finest "glove leather" you can buy, mold-ability and durability.  The jacket feels like it has been "broken-in" for the last five years, it just slides on like it was made for you. This is one of those jackets that you will proudly own for a lifetime. 
READ MORE ABOUT HORWEEN® UTICA DEERSKIN
The jacket is offered in even numbers to ensure a more precise fit. The body is slightly tapered with stylish, shoulder and cuff details, a leather waistband and our dual CCW pockets.  
Order at your true jacket size or reference the sizing chart below. If you will wear multiple layers underneath, order one-size up or contact us for more assistance.   
PLEASE NOTE: This is a Pre-Sale Item with a future ship-date of 
Mid-Late May 2022
Materials
Features 

Details
Sizing
3.5-4oz. charcoal naked Horween® deerskin (USA)
Lining:  Premium Japanese cotton plaid/white cotton (Japan)
Ykk USA oversized brass #10 zipper (USA)


Unique Individual Serial#
Back Length 26-28"
Vintage inspired design (EXCLUSIVE CLC ONLINE)


Adjustable snap cuffs

Dual hand pockets

Inside wallet pocket & leather patch pocket

Dual inside (CCW) concealed-carry pockets & universal holster
Superb fit with slight taper





Sizes available: 38 - 62 (Tall available)


SKU: 7312-HDBK
CCW Dimensions: 8" x 12" CCW Opening: 8"
Designed In USA | Hand-Crafted & Built In Mexico

Click Here to view our sizing chart & Information Page
---