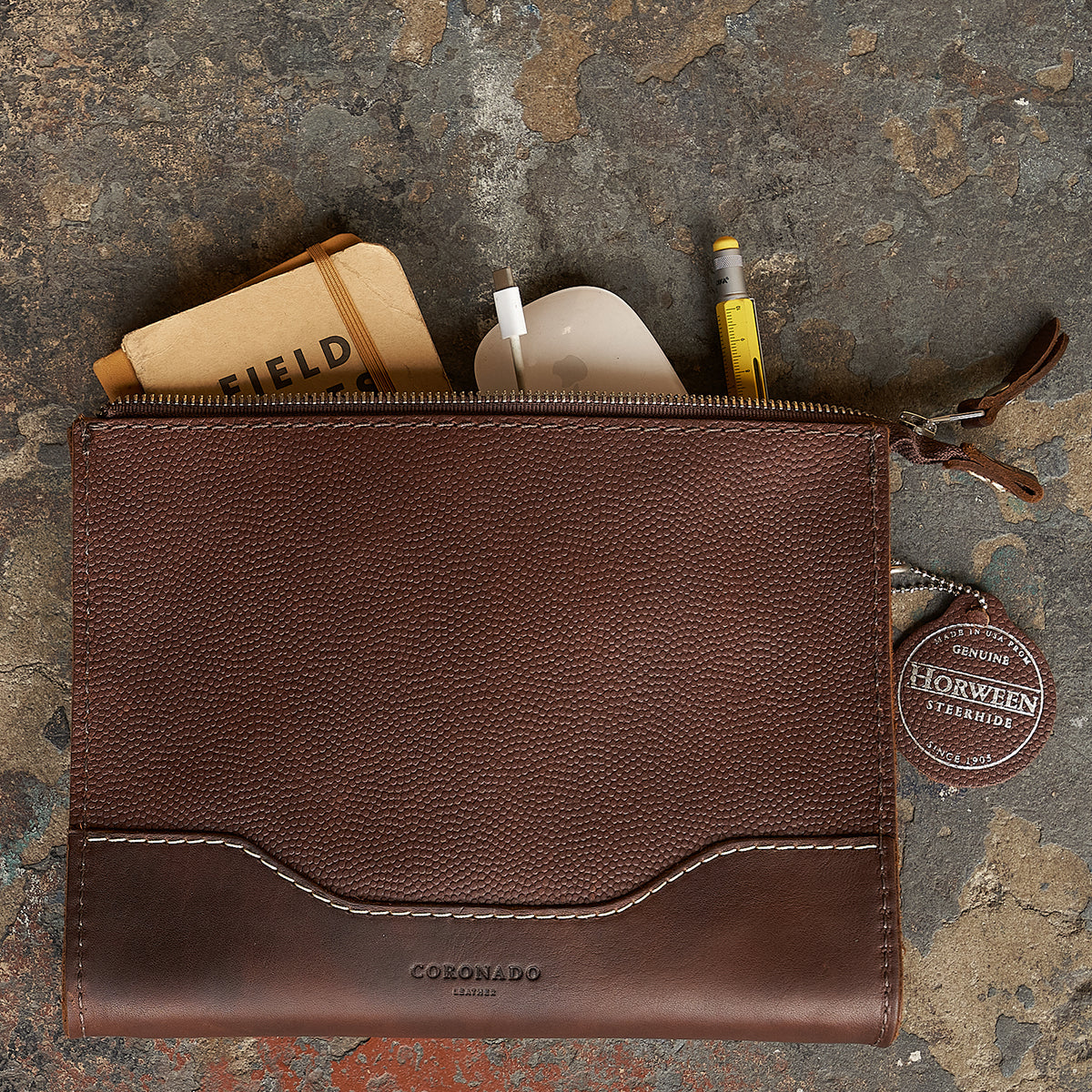 Horween® Football Pouch No.194 (L.E.)
Our best selling Utility Pouch No.194 made in a very LIMITED EDITION dark brown Horween® Football leather with a smooth Horween® leather trimmed base. 
This LIMITED EDITION pouch is handsome and rugged and a great way to organize your briefcase, backpack or messenger or use it as a hand-carry pouch.  
LIMITED EDITION :  Horween® Football Leather.  Only (30) Made
Horween® Football Leather (U.S.A.) Chicago 5/6oz.
Horween® Smooth Leather Base (U.S.A.) Chicago  5/6oz.
Solid Brass (Nickel Plated) Hardware
Leather Lined


Dimensions: 9" x 7" x 1-1/2"
Side Gusset Panels For Added Capacity
Side Brass D-Ring  
Made In USA
SKU: 72194

One Main Compartment
Top Brass Zipper (YKK USA)
Inside Leather Card Slot
LIMITED EDITION PRODUCT 
Individually Embossed  & Logged With A 10-Digit Serial# 
---
HORWEEN® LEATHER
Tanned In Chicago, IL Since 1905
Horween® Leather Company has been tanning leather in Chicago, IL for more than 100-years. They are a five generation, family run company that we are proud to be working with. They are true artisans of their craft and recognized world-wide as one of the premier tanners of leathers like horsehide, shell cordovan, football leather, basketball leather and more. Today, their leathers are still made by hand, the same way as generations ago.

HORWEEN® FOOTBALL LEATHER
Horween® Leather has tanned the NFL Football Leather for more than 70 years. Arnold Horween Sr. developed and then produced the leather after playing professionally and then head coaching the Harvard football team. 


The leather is embossed to achieve the "football texture". The official football leather has a "tack" which allows for better gripping and is infused into the hide in a process called Tanned in Tack®.

Today WILSON supplies about 25,000 NFL footballs per year using Horween® football leather. The WILSON football leather is tanned in a reddish, tan color that is often darkened by the teams individually, using waxes, oils, heat and other techniques in a process to get the "tack" right for the quarterback.  The leather has a great feel and temper for leather goods. Like all Horween® leathers, they are premium with a fantastic smell, ideal structure to hold up in cases, bags & accessories. The texture of the football leather will never wear-down and the combined look of the smooth and pebbled leather work very well together.
Individually marked with a unique 11-digit serial number to validate the authenticity and the time of production.