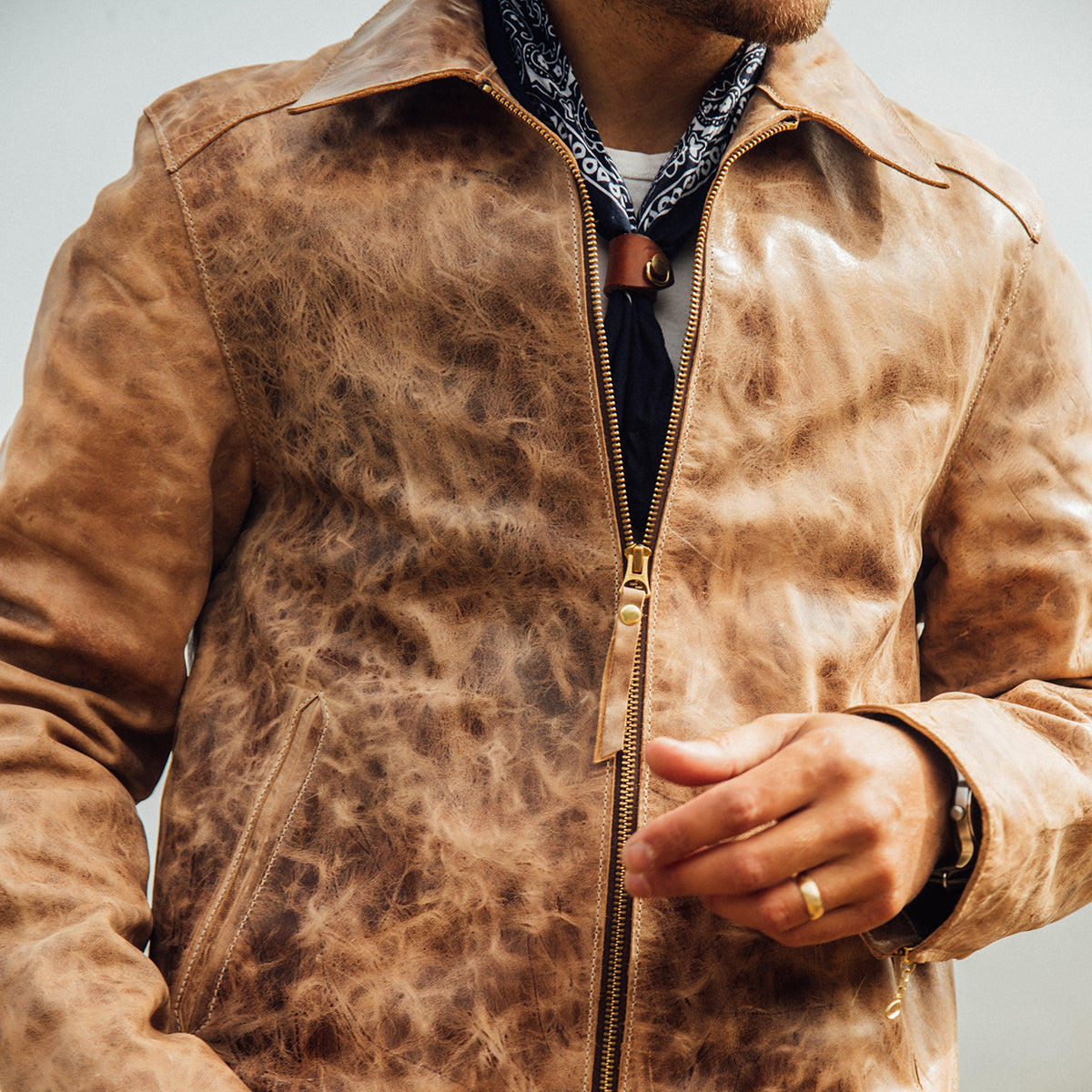 Horween Horsehide Jacket No. 65
The No. 65 Horsehide Jacket is a very special jacket and quite possibly the finest garment we have ever designed and built.  It is hand-cut from a custom tanned Horsehide leather made exclusively for Coronado Leather by Horween of Chicago. We use a beautiful 5oz. Indigo cotton chambray liner that is imported from Japan along with a vintage Ykk/Universal brass zipper that also comes from Japan.  Each jacket will have an internal red-label serial# sewn into the liner to validate the authenticity. 

Horsehide is widely considered the premium leather for men's jackets due to the strength relative to the thickness along with a smooth grain.  The Horween horsehide is a natural color with a rich"pull-up" effect with light undertones. The  leather has a more weathered appearance with beautiful complexity of color which will continue to age over time with an incredible patina.  
The fit of the jacket is modern casual, with slimmer sleeves and a trim body. It is not a "slim fit" cut but it is more modern. Order at your true jacket size or reference the sizing chart below. 
PIONEER SHOPPE CAMPAIGN |  LIMITED EDITION
CLICK HERE to Learn more about our Pioneer Shoppe 


3-3.5 oz. Horween Horsehide - Natural (Chicago, IL)
5oz. Cotton Chambray Liner - Indigo (Japan)
Brass #5 Ykk/Universal Vintage Zipper (Japan)

Back Length:  26" - 28" 
Individual Serial# (Red label - sewn into liner)
(2) 6" Slanted Hand Pockets
Brass Zipper Sleeve
Vintage Raw Edge Construction
Inside Wallet, Inside Cell Pocket
Made In Mexico
SKU: 70J40
 

HORWEEN HORSEFRONT LEATHER 
Since 1905 | Chicago, IL


Horween Horsefront leather is widely recognized as the finest jacket leather. The hides are a comfortable 3.5-4oz. but with the tensile strength of a much heavier hide. The fiber structure of horsehide is much different than cow or steer hide, with a tighter grain that has much less stretch and a naturally smooth grain.

Horween Leather Company has been tanning leather in Chicago, IL for more than 100-years. They are a five generation, family run company that we are proud to be working with. They are true artisans of their craft and recognized world-wide as one of the premier tanners of leathers like horsehide, shell cordovan, football leather, basketball leather and more. Today, their leathers are still made by hand, the same way as generations ago.