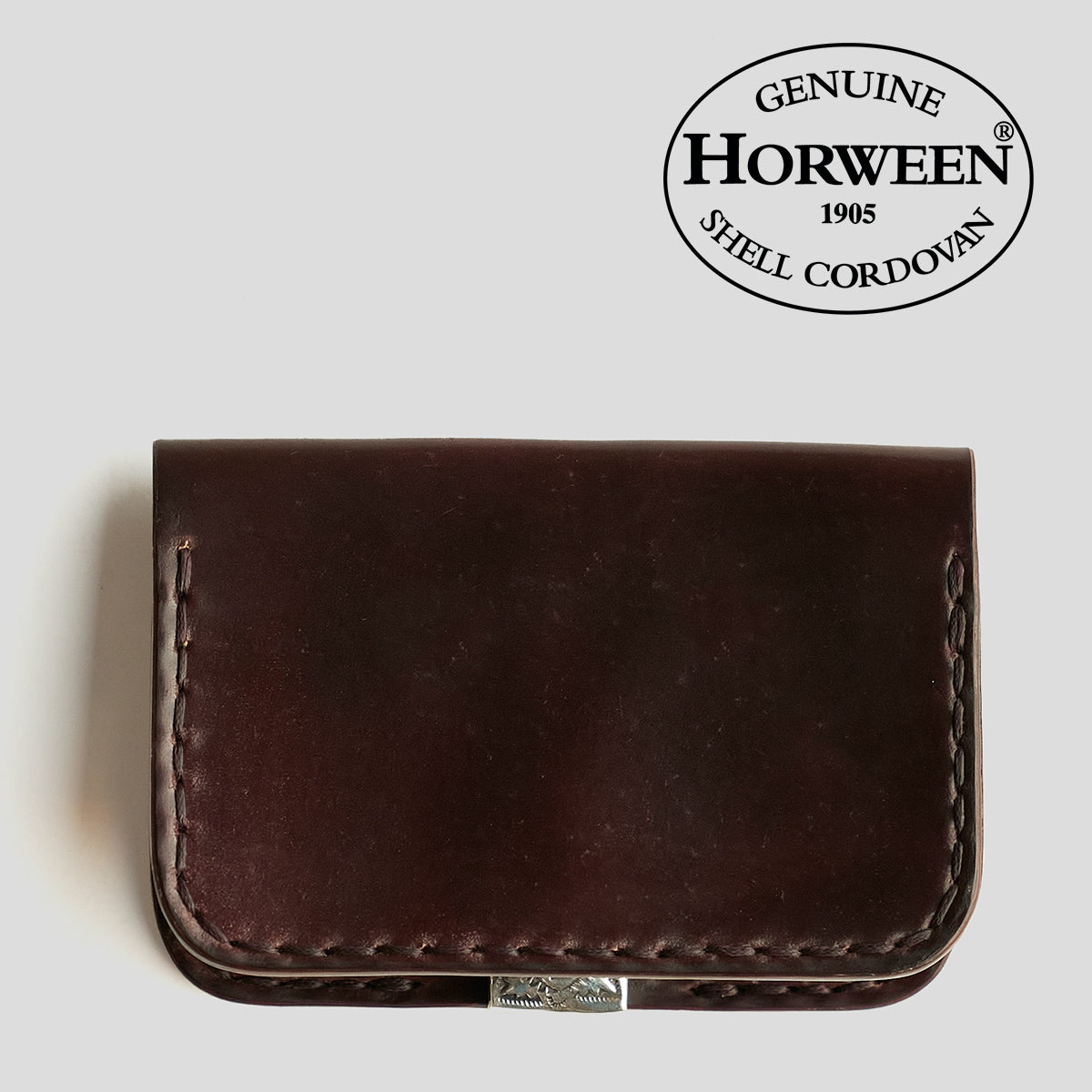 Horween® Shell Clip Wallet #8 | LE
A Limited Edition wallet made from Horween's most recognized and sought-after leathers, Shell Cordovan. This unique leather is made from the hindquarters of horsehide, known to be the most dense and durable section of the hide. The glass-like shine and extreme durability is ideal for wallets and small leather goods. Read more about Shell Cordovan below or visit www.horween.com for more information. 
The Heritage Silver Clip Wallet is a unique, LIMITED EDITION wallet, 100% designed, cut & sewn in USA. E
ach piece is precision die-cut, split to the optimum thickness and then hand-sewn with traditional saddle-stitching techniques. We use premium,  heavy-duty Spanish waxed thread and the edges are sanded, stained and waxed all 100% by hand. The No.14 features two card slots (fits up to 5-7 cards each side) and a removable sterling silver money clip. The edges are beveled, sanded and stained all by hand to give the wallet a sleek, refined finish. 
Sterling Silver Money Clip (Made In New Mexico)
The wallet will include a sterling silver money clip made in Gallup, NM by Shirley Lee, a well know Navajo artist in New Mexico. The face is an engraved sterling silver design with incredible detail. The wallet was designed to accommodate the money clip by simply sliding inside a hand-sewn channel.  Can be used with or without the wallet.
Made In USA | LIMITED EDITION FIRST EDITION 
Materials
Features 

Details
Horween® Shell Cordovan | Horsehide (USA)
Sterling Silver Money Clip (USA)
Heavy Weight Waxed Thread (SPAIN)

Dual Card Slot Design
Removable Silver Money Clip
Traditional Saddle Stitched Construction
Hand Sanded, Beveled, Stained & Waxed Edges

Dimensions:

 

  4 1/4" x  

2

¾"




SKU: 8214-HSH
LIMITED EDITION (30 pcs)
GUARANTEED FOR LIFE
Designed & Built In USA


---
HORWEEN® | Since 1905
Genuine Shell Cordovan

Genuine Horween® Shell Cordovan is quite possible the finest leather in the world. Unique in many ways, shell cordovan is known for it's extreme durability, extraordinary bright luster and glass-like surface and the rich cordovan aroma.
The entire tanning process goes through around 100-processes and takes a full 6-months to complete tan, making this the ultimate "Artisan Tanned Leather".  Cordovan is more than just a color, it is a very specific leather from the "butt" of a horsehide.  The oval shaped shells are tanned, stuffed, shaved, and then polished over six months. 
Each shell is slowly steeped in gentle vegetable liquors then hot stuffed & slicked onto glass frames to dry.  They are hand curried and shaved by highly skilled artisans to expose the shell and the dyes are hand rubbed on for a deep aniline finish. Finally, the shells are hand glazed to achieve the rich, glossy look and feel prized by fine craftsmen. 
Another exceptional Horween® leather, tanned in Chicago, Illinois.