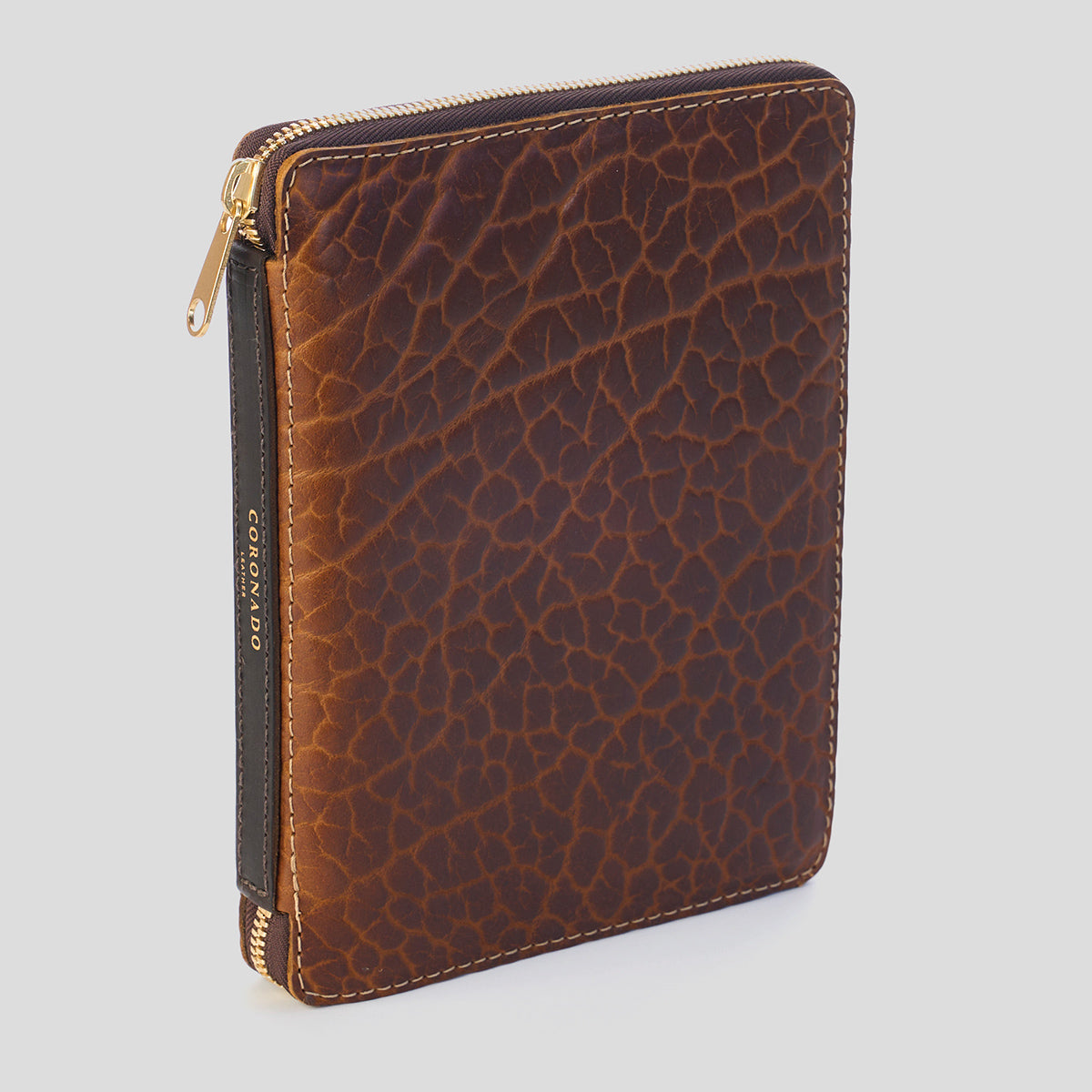 NEW Bison Zip Case No. 5300 | LE x 20
The Bison Zip Case 5300 is meticulously hand-crafted in our San Diego leather shop with the finest materials and construction. The full-zip around design is lined with a tan nappa suede, leather inside sleeve pockets and the finest Japanese made Excella® brand polished brass zipper.  The Appointed brand notebook is included and you are able to use the left panel for your desired planner, documents or another notepad. 

GENUINE SHRUNKEN BISON LEATHER   
Each Portfolio is cut from the larger grain pattern of the "shoulder" of the bison hide. We trim each hide at the shoulder/neck area to maintain better grain consistency. The shoulder/neck is a small section but has the largest, boldest grain that resembles an exotic hide. We trim the inside and spine with firmer, smooth Horween® latigo. Both leathers are tanned and finished in the USA, along with the portfolio and the two inserts, making this 100% American built. Individually embossed and logged with a unique serial# and edge finished by hand. 

GRID NOTEBOOK (75 perforated pages) 9.5" x 7.5"
Included with the Zip Folio is premium grid notebook. It features a brass wire-o binding, waterproof cotton bookcloth covers, and smooth 70# paper. Plus, it's American-made with responsibly sourced materials. Made by Appointed Brand in Washington D.C.
LIMITED EDITION x20 Made (Sep 2022)
Materials
Features 

Details
Genuine Shrunken American Bison (USA)
Horween® Latigo Trim & Spine (USA)
Nappa Suede Liner 
Grid Notebook Included (75-pages) | Made In USA by appntd.com


(L) Panel:  Sleeve Pocket

(R) Panel: Sleeve Pocket


Japanese Made Excella® Brand Brass Zipper
Marked & registered with an individual serial #




SKU: 5300-WN
7.25" x 9.5" x 1"
Edges & Hand-Stained, Polished & Waxed
CLC LIFETIME WARRANTY (Learn More)
LIMITED EDITION (Grand Slam Collection 2022)
Made In USA | Guaranteed For Life

---
CLC LEATHER FOLIOS & CASES
Premium Leathers & APPOINTED Brand Inserts
The CLC Leather Portfolio Sets were designed as an alternative to your briefcase when on the go, off to the coffee shop or simply working from home.  Each Portfolio will include an insert from "Appointed" brand of Washington, DC. Like all of our Portfolio's the Appointed inserts are all Made In USA from premium paper and classic designs.
We worked for close to a year to ensure that the designs were functional and well built.  The features will vary based on the design, but most will have a brass zipper pocket, pen or ruler loops, miscellaneous compartments and well thought-out closures. We will use our signature leathers (American Bison, Horween Steerhide & Shell Cordovan) and finish them with Italian and American made hardware. 
Each portfolio is made in our San Diego, California shop and will be Individually marked with a unique 11-digit serial number to validate the authenticity and the time of production.