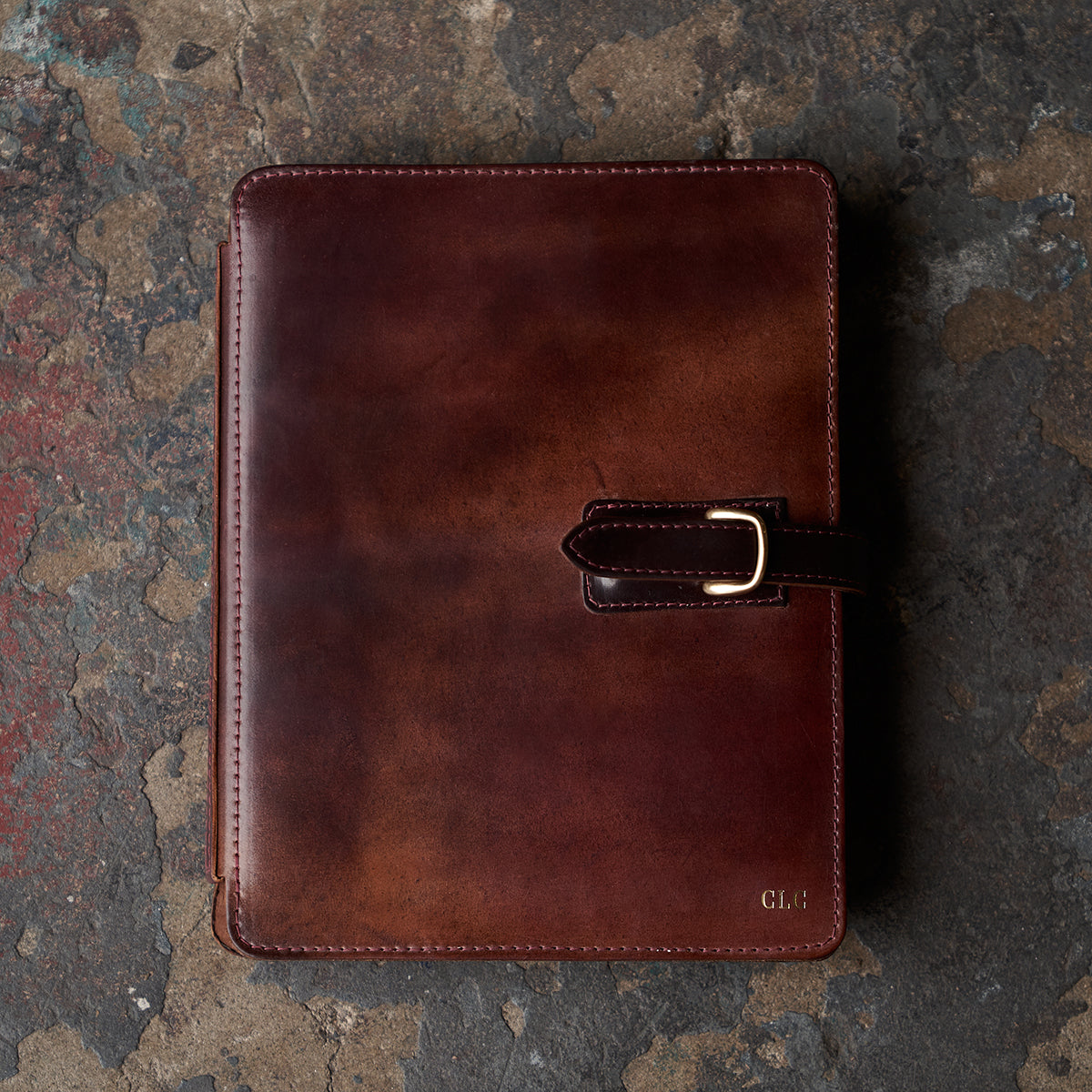 Shell Cordovan Folio No.218 (LE Marbled)
LIMITED EDITION PRE-SALE |  Only (20) Pieces Made
The NEW Shell Cordovan Folio is a truly unique and special case. Made from genuine Horween® Shell Cordovan, one of the most sought after and expensive leathers in the world, for a reason.  The glass-like shine and extreme durability is an ideal leather for small leather-goods, cases, folios & wallets. 
This LIMITED EDITION version is made in Horween's exclusive "marbled" shell cordovan in their classic #8 color. A hand glazed, stone or wood-like appearance that is like nothing else we have seen. Each case is hand-stained, burnished and waxed on the edges and the entire outside is Shell Cordovan. The internal pockets are made from Horween® Horsehide Chromexcel®, finished with custom Italian hardware and includes an un-dated calendar and a grid notepad insert from "Appointed" brand of Washington, DC, made In USA from premium paper and classic designs. 
Each folio is skillfully assembled in our San Diego leather shop then individually gold-foil embossed with a unique serial# and polished before shipping.  The design is a genuine heirloom quality case that is 100% exclusive to our website and made in "small-batch" production runs.

Materials
Features 

Details
Horween® Shell Cordovan (Special Marbled Finish) (USA)
Horween® Horsehide Chromexcel®  (Inside Panels)
Custom Italian Solid Brass Hardware 
Undated Calendar/Planner & Notepad Included| Made In USA by appntd.com

(L) Panel:  5" x 9"

 Pocket, Card Slot

(R) Panel: Sleeve Pocket

(1) Shell Pen Loop (hidden behind the top loop)


Leather Loop Closure System
Marked & Registered Individual Serial#




7" x 9" x 3/4"
SPECIAL LIMITED EDITION |  Only (20) Made
CLC LIFETIME WARRANTY (Learn More)
SKU: 6218-HSM8
Monogramed Items Are Non-Returnable
Designed & Built In USA
---


GENUINE HORWEEN® SHELL CORDOVAN
Tanned In Chicago, IL Since 1905 
Genuine Horween® Shell Cordovan is quite possible the finest leather in the world. Unique in many ways, shell cordovan is known for it's extreme durability, extraordinary bright luster and glass-like surface and the rich cordovan aroma.
The entire tanning process goes through around 100-processes and takes a full 6-months to complete tan, making this the ultimate "Artisan Tanned Leather".  Cordovan is more than just a color, it is a very specific leather from the "butt" of a horsehide.  The oval shaped shells are tanned, stuffed, shaved, and then polished over six months. 
Each shell is slowly steeped in gentle vegetable liquors then hot stuffed & slicked onto glass frames to dry.  They are hand curried and shaved by highly skilled artisans to expose the shell and the dyes are hand rubbed on for a deep aniline finish. Finally, the shells are hand glazed to achieve the rich, glossy look and feel prized by fine craftsmen. 

Individually marked with a unique 11-digit serial number to validate the authenticity and the time of production.