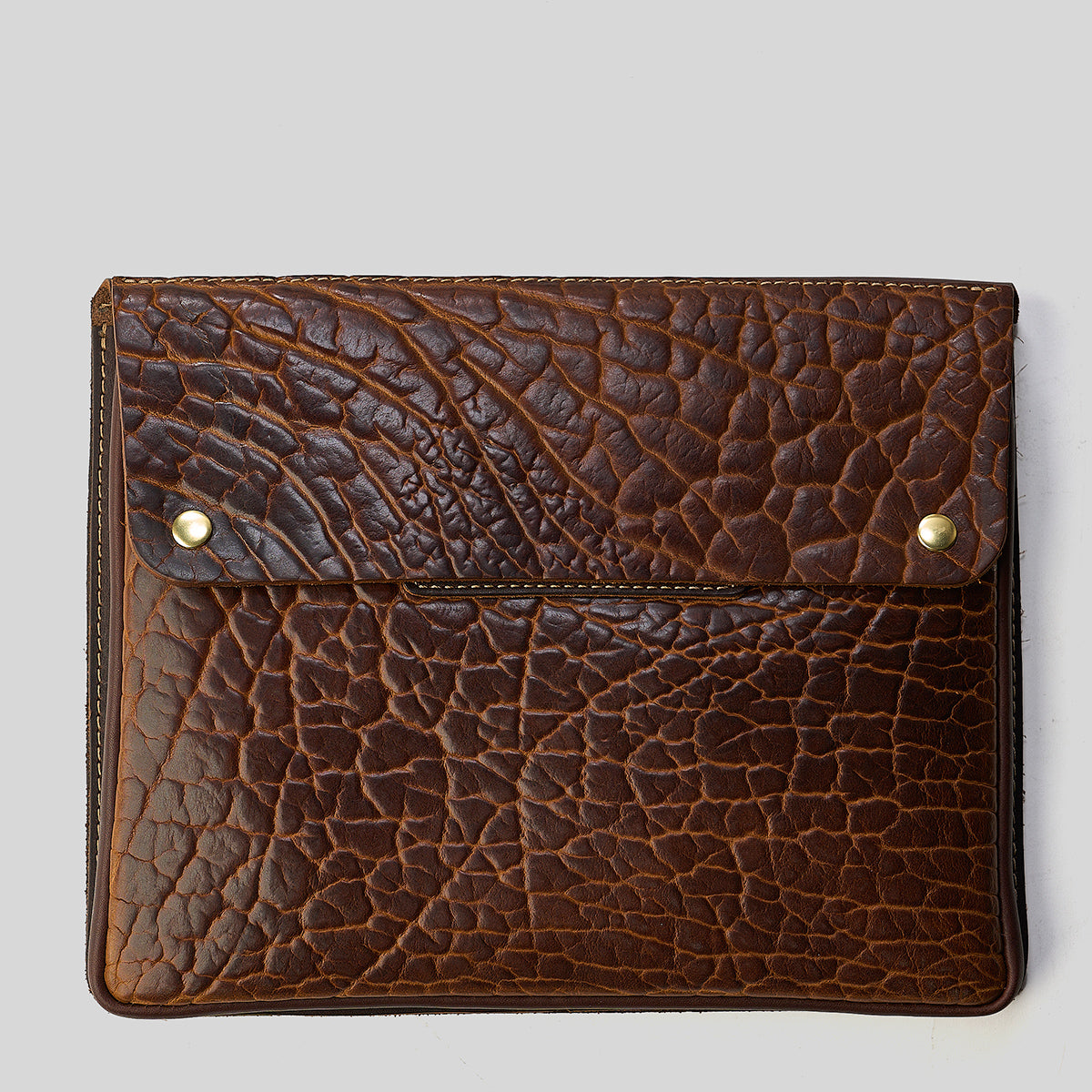 Shrunken Bison & Horween® Hard Cases
LIMITED 2nd EDITION | Only 60 Pieces Made 
The Shrunken Bison Hard Case is designed to fit iPads, laptops, tablets and even notebooks. Smartly constructed with a full 8/9oz. Horween® latigo back and a side gusset that makes this a hard case and not just a "sleeve". The construction allows for excellent impact resistance in a very sleek and functional design.  The back is cut from 
heavy Horween® latigo and slightly larger than the face to create an "out-seam" that keeps the inside contents slightly higher and protected. The gusseted side panel gives you enough room for an extra notepad, documents, magazines, etc. Use it inside your every-day bag or take it out to use individually as a folio case. 
Other features include a "hinged flap" design to keep it flat to the body. Secured with two brass snaps, a front card or ID slot and a foil embossed 9-digit unique serial#. The edges are hand-stained and polished then sewn with industrial bonded nylon thread. 

Each Portfolio is cut from the larger grain pattern on the "shoulder" of the bison hide. We trim each hide at the shoulder/neck area to maintain better grain consistency. This section of the hide is small but has the largest, boldest grain that resembles an exotic hide. We finish the inside and spine with firmer, smooth Horween® latigo. Both leathers are tanned and finished in the USA, along with the portfolio and the two inserts, making this almost 100% American built. The are individually embossed and logged with a unique serial# and edge finished by hand. 

Made in three sizes to accommodate a variety of electronic devices
Small: 11 ½ x 9 x 1 ¼ (iPad Pro 12.9", 12" MacBook)
Medium: 12 ¾ x 9 ¼ x 1 ¼ (MacBook Air, MacPro 13", MacPro 14")
Large: 14 ½ x 10 x 1 ¼ (MacBook Pro 16")
Materials
Features 

Details
Shrunken Americana Bison 6/7oz. (USA)
Horween® Latigo Leather 8/9oz. (USA)


LIMITED EDITION (40 Pieces Made)

Gusseted Body Construction
Hinged Flap Design
Card Slot
100% Leather Lined (no synthetic or fabric)





SKU: 82153, 82154, 82155
Made In USA | Guaranteed For Life | Serial Numbered
---
SHRUNKEN AMERICAN BISON LEATHER (USA)
Our "Shrunken" American Bison is one of our favorite and most unique leathers. The hides are chrome and vegetable re-tanned in Milwaukee, Wisconsin (USA) from bison hides that originated in North America. The leather goes through a complex tanning process that shrinks the hide to enhance the already bold natural grain of bison. The hides are sprayed with a wax prior to applying a touch on a "hot chromed mirror plate" to give them a unique, glassy sheen. The pebbled grain is not compromised and is 100% natural. 

The finish of the leather has a subtle but sleek sheen with a two-toned "tipping" effect in the color. In our classic "Walnut" color you will see browns & tans all in the same hide. It is a full 6/7oz. in weight and like most bison leathers, extremely durable. All tanned and finished in the USA.
Learn more about our signature Shrunken Bison leather