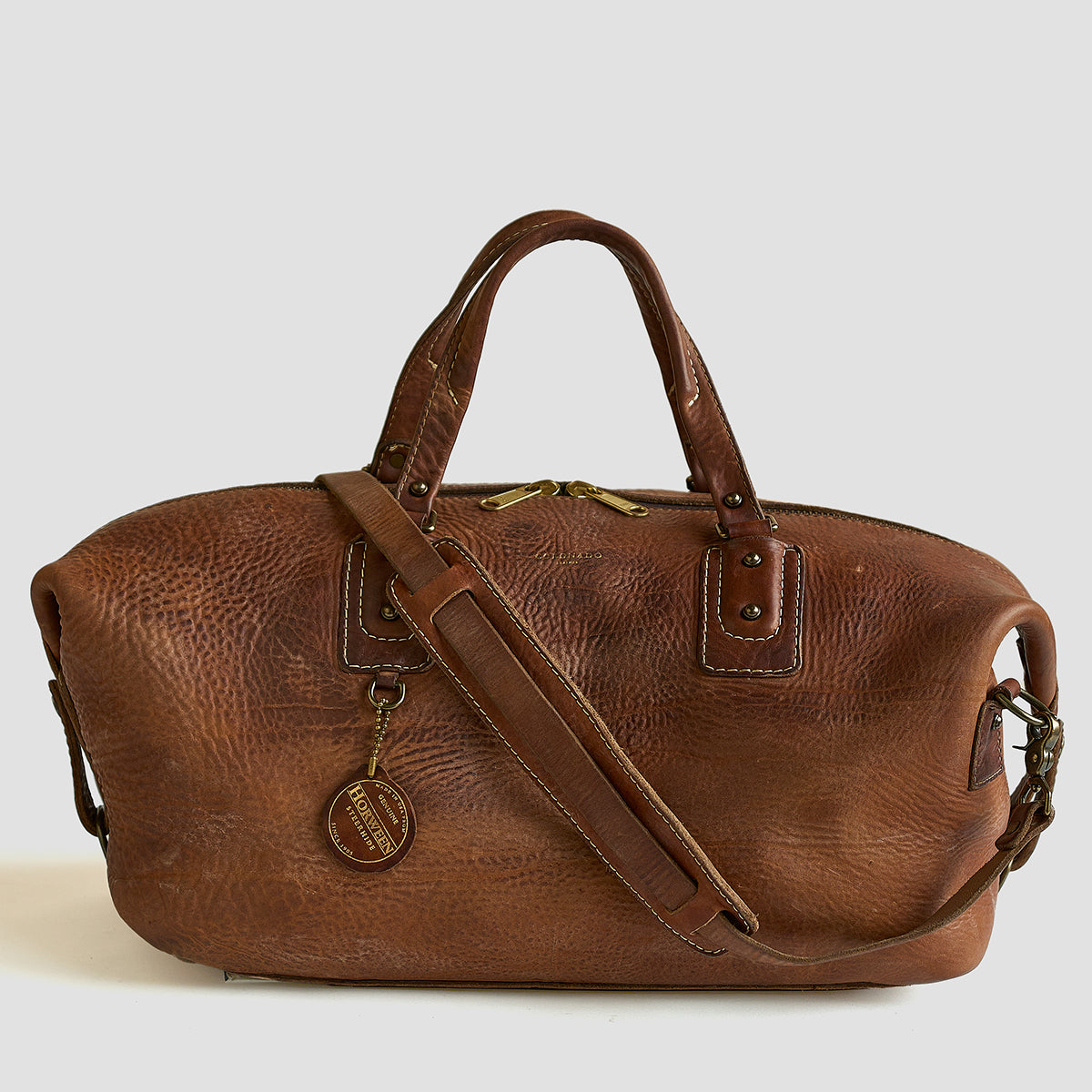 Stone-Washed Americana Duffel #205 | L.E. x9
There are many stories in history and life where a "mistake" created something special or opened our eyes to something we didn't see. The Stone-Washed Americana was was one of our "mistakes" that turned out to be something special.
Our original and best-selling Americana Duffel bags are made from Horween® vegetable-tanned leather, the same leather we use in our stone-washed collection. The first time we stone-washed these duffels was early 2022 when we had a batch of (5) that the leather was wrinkled and loose on the surface and not suitable for an un-washed bag. When this bag is finished, they are flipped and turned from outside-in, so the surface/grain texture was not noticed until they were turned. At that point we decided to stone-wash them and see how the grain and surface took to the wash and heat...it was uniquely stunning! The surface wrinkles and grain was further enhanced but then tightened with the heat and drying process making each and every duffel different but distinctly cool! No two of these bags are exactly alike. 
The only difference on these (aside from the stone-washing) and our Americana Duffel is we use a heavier hide (8/9oz.) for the stone-washed versions, we line them with a super-cool 6oz. Japanese cotton chambray (better for washing) and we use our antiqued zipper pulls and other hardware.  
100% TANNED, CUT & SEWN IN USA
SECOND EDITION | Only (9) Made (June 2022)
We now sort the looser, wrinkled hides (when available) and make duffels. The problem is Horween® Dublin is not supposed to have those wrinkles and loose grain, so we really will not have many hides that will work for this duffel.  This is the SECOND EDITION and it took close to 5 months to sort some hides to make a small batch. It will not be possible for us to plan or promise we can make more, so best chance is to order them when they are released.

Materials
Features 

Details
Horween® Vegetable Tanned Steerhide 8/9oz. (USA)
Stone-Washed In Los Angeles, CA
Solid Brass Hardware (Antiqued)
#10 Ykk Brass Zipper (USA)
6oz. Cotton Chambray Blue Lining (Japan)

STONE-WASHED In Los Angeles, CA
Open main compartment with wide top opening
Dual top handles with 6.5" drop
Strap: 44" made of Horween® Dublin Leather with pad
Inside gusset pocket with zipper (8" x 8")

Contrast stitch details
Adjustable cinch straps for function and styling




18" x 14" x 10"
SKU: VA205
Individual Internal Serial# (Marked & Logged)
Designed & Built In USA
LIMITED Second Edition (9 Made)
---
STONE-WASHED IN LOS ANGELES, CALIFORNIA
Inspired by vintage Americana work-wear, denim jeans and leather goods from the 70's-80's, our Vintage Stone-Washed Collection is like nothing else we have made. Each piece is crafted in our San Diego shop using a vegetable tanned Horween® leather, heavy #277 beige thread, solid-brass (Antiqued) hardware and stone-washed in Los Angeles, California after construction. Vegetable tanned leathers are a traditional artisan and labor intensive tanning process that creates unique characteristics in an environmentally friendly manner. The hides are processed in large wooden drums with natural tree bark tannins, waxes and Horween's proprietary tanning liquors.
After washing, the bags are shaped, air-dried, conditioned and oiled to bring back the luster of the leather. The darkened edges and wrinkled flaps are all genuine and unique to each piece. The results are amazingly authentic, with a new bag that appears old, worn and broken-in.
Individually marked with a unique 11-digit serial number to validate the authenticity and the time of production.