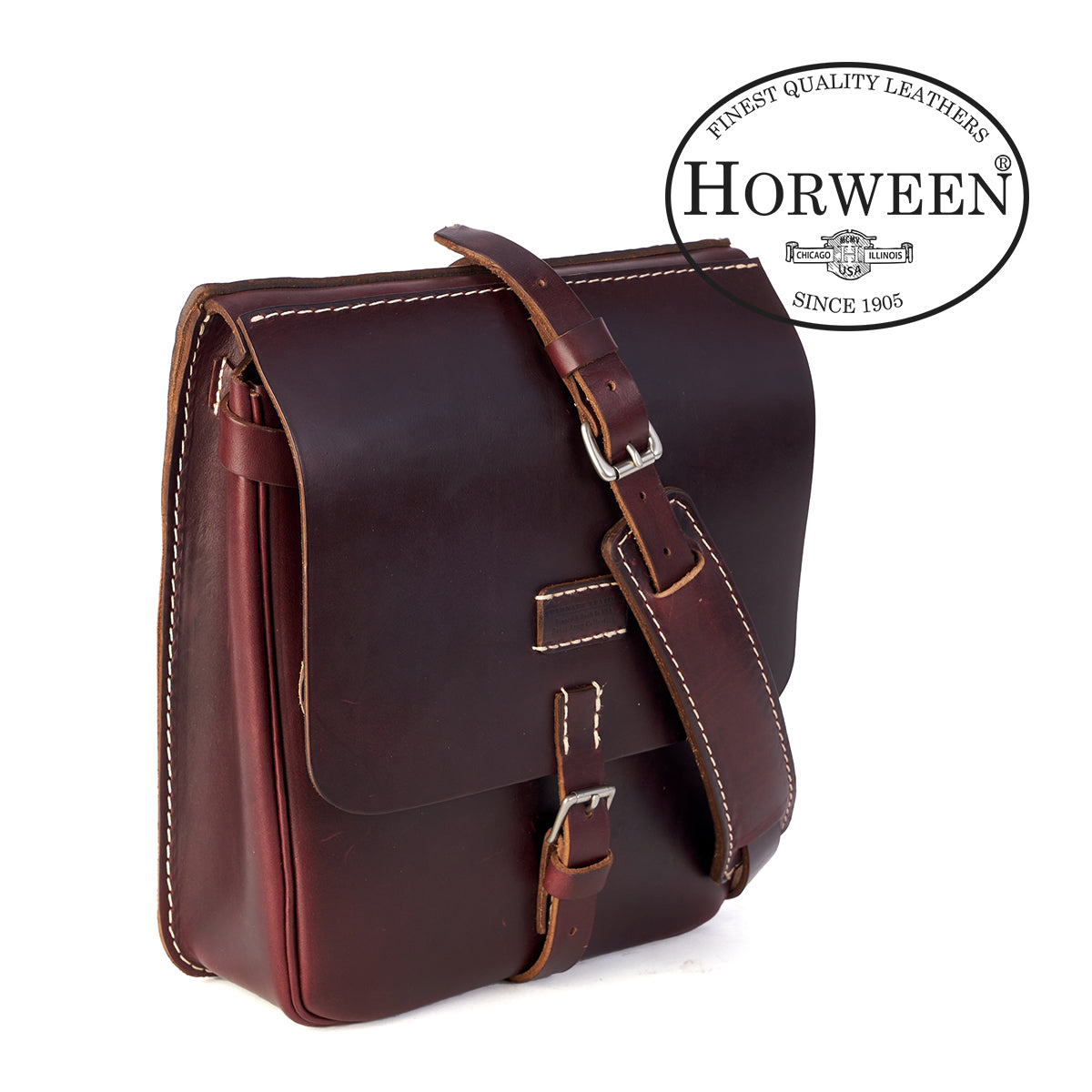 Swiss Saddle Bag No.2 | #8 CXL
Inspired by the original Swiss Army saddle bags used in the 1920's-40's, our No.2 Swiss Saddle Bag is engineered and built on the same principals as the original Swiss Army Bags.  Precision, durability & design. These are all especially true for this bag.  We use Horween's heaviest Chromexcel leather (8-9oz. weight), American made No.277 extra-large thread, and features like hinged flaps and three heel-bar buckle adjusters. You won't find a tougher, better designed and engineered bag than our Swiss Saddle Bag No.2
This version is made from Horween® Chromexcel® in their classic #8 color (deep cordovan) with no internal lining or fabrics. Each piece is individually serial numbered with black foil embossing and finished with solid-brass (nickel plated) hardware. 

This is a true heirloom bag that you can pass down for generations. Not only is the design unique but the leather as well. Horween® Chromexcel® is an exceptional leather and quite complex. Tanned in Chicago since the early 1900's, Chromexcel® is a classic "Pull-Up" leather with a with a smooth, sleek surface and an unbelievable feel and "leather smell".  Read more about Horween® Chromexcel® below. 

PLEASE NOTE: This is a Limited Edition Item: Only (30) Pieces Made
Horween® Chromexcel® #8 Leather (8/9oz.) 
Heavy-Duty 277-Bonded Thread
Solid Brass (Nickel Plated) Hardware

Dimensions: 9" x 12" x  3"
Individual Serial Numbered
Edge Polished & Stained
Made In USA
SKU: 1312-HX#8

One Main Compartments
Side & Front Cinch Straps
Inside Leather Strap Holder
Adjustable 3/4" Strap (40-47")

HORWEEN® CHROMEXCEL®
Chromexcel® is the original pull-up leather; using time honored techniques and formulas that were developed nearly 100 years ago.  Chromexcel® is still produced in the the world-renown Horween tannery in Chicago, using a bark retannage from a proprietary recipe, and then genuine hot stuffed with a blend of natural oils and greases. Chromexcel® is characterized by a rich pull-up in full aniline, hand rubbed finishes.  Made to this day with old world craftsmanship, modern Chromexcel® carries on a long history of superior comfort and durability.