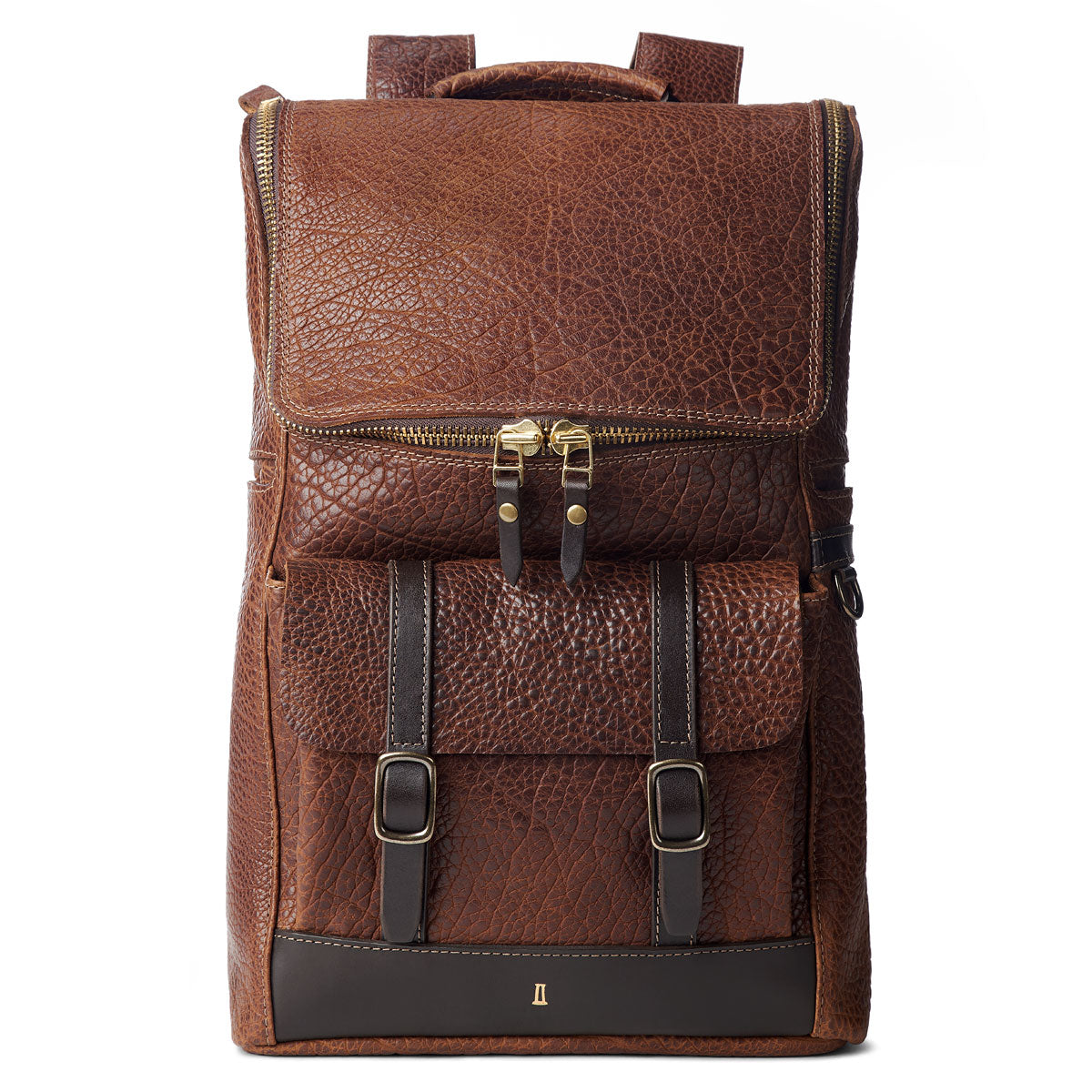 Top Zip Bison Backpack #740
Our new all-leather backpack is finally here. We have been working with concepts and ideas for years, but we were never quite comfortable with the weight and designs. Our new Top Zip design is incredibly functional, with easy access to the main compartment. Loaded with eight pockets, including our back key-locking CCW pocket, the design is functional, lightweight and great looking.

PLEASE NOTE:
The American Bison is a free-range, roaming animal known to fight within their herds.  Scarring, natural marks and grain variations are common and prevalent, making each and every hide truly unique.
The Story
It's no secret that we love American Bison leather! Our first bison product was made more than twenty-years ago and now we finally have our first all leather backpack made from our signature, shrunken-grain American Bison. Rugged, bold and tough is what best describes this leather.  The distinct texture is complemented with Horween Latigo trim and straps.  We hand-stain and polish any raw edges, bevel the straps and as always, pay attention to the small details.
Take advantage of the Pioneer Intro price now. Only available for 21-days.
Features
American Bison (Shrunken Grain) 5/6oz.
Horween Latigo Trim & Straps (8/9oz.)
Wide-Opening, Zip Top Pocket
Individual Serial#
Front Pocket With Slide-Buckle Closures
Side Phone Pockets (both sides)

Interior laptop sleeve with snap closure (fits up to a 13" laptop or tablet) 
Interior Utility, Card & Zipper Pockets
Our Signature Key-Locking CCW Pocket
13" x 17 1/2" x 4 1/2"
CCW Pocket: 11" x 14 1/2"
Adjustable Padded Shoulder Strap: 27"-3"
  Made In USA
SKU: BC740
Materials
American Bison (Shrunken Grain) 5/6oz.
Leather: Horween® Latigo (8-9oz.)
Hardware: Solid Brass With Antique Finish
Zipper: Ykk USA #10
Lining: Cotton Bull Denim (Tan)
Lining:  Suede Under Flap & Straps