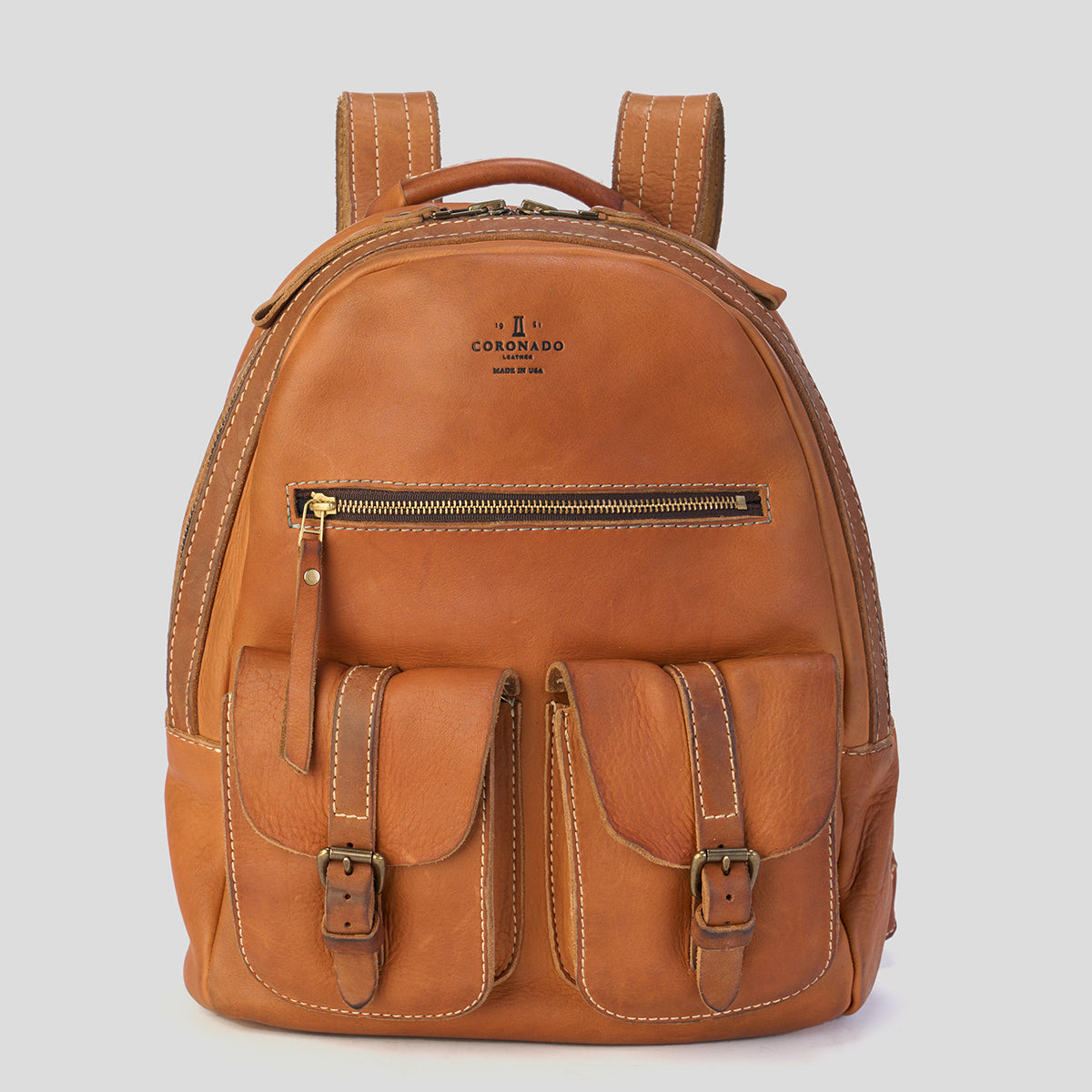 Vintage S.W. Essex Backpack #720 | LE x20
Our Vintage S.W. Essex Backpack is the second product in this new Limited Edition Fall '22 collection. The vintage feeling design is made with an extra wide top opening, multiple pockets throughout and reinforced, two-layer shoulder straps. Made from a combination of two premium vegetable-tanned Horween® leathers in a true natural color, then stone-washed, dried and oiled to give them a worm and aged saddle color. 
Designed and 100% built in our San Diego leather shop with premium Japanese denim lining, antiqued solid-brass hardware and individually marked with a unique 9-digit serial number. The backpack is stone-washed in Los Angeles after construction then oiled and conditioned to take them back in time, giving them an aged, vintage look and feel. 
HORWEEN® ESSEX LEATHER
Essex is a full vegetable tanned leather using Horween's old-fashioned & time proven Shell Cordovan tanning liquors. A rich blend of the finest fats, greases and oils are tanned into the leather giving the hides durability, softness and a rich, round feel. Entirely tanned and finished in Chicago, Illinois at the world famous Horween® tannery.
HORWEEN® HORSEHIDE LEATHER 8/9oz
Tanned in Chicago since 1905, Horween® is a premium leather. The horsehide used in our Essex S.W. bags come from the "strip" section of the hide that sits directly above the "Shell" or butt of the horse. The horizontal "strip" runs against the natural grain and has minimal stretch, making it ideal for straps and belts. It's a full vegetable tanned leather in a stout 8-9oz. leather that is ultra strong and naturally smooth.  |
LIMITED EDITION PRODUCT: Only x20 Made


Materials
Features 

Details
Leather: Horween® Vegetable Tanned Essex (Stone-Washed)
Leather Handles, Strap & Trim: Horween® Natural Horsehide
Hardware: Solid Brass (USA & ITALY)
Lining: 8oz. Cotton Denim (Made In Japan)


One Main Compartment


Two Front Gusseted Patch Pockets

Inside Utility Pocket

Inside Card & Zipper Pocket

Front Zipper Pocket

Contrast stitch details
Cut & Sewn In San Diego, California
Stone-Washed In Los Angeles, California





11" x 16" x 5"
Individual Internal Serial# (Marked & Logged)
LIMITED EDITION | Only x20 Made
SKU: V4720
Guaranteed For Life
Designed & Built In USA
---
STONE-WASHED IN LOS ANGELES, CALIFORNIA
Inspired by vintage Americana work-wear, denim jeans and leather goods from the 70's-80's, our Vintage Stone-Washed Collection is like nothing else we have made. Each piece is crafted in our San Diego shop using a vegetable tanned Horween® leather, heavy #277 beige thread, solid-brass (Antiqued) hardware and stone-washed in Los Angeles, California after construction. Vegetable tanned leathers are a traditional artisan and labor intensive tanning process that creates unique characteristics in an environmentally friendly manner. The hides are processed in large wooden drums with natural tree bark tannins, waxes and Horween's proprietary tanning liquors.
After washing, the bags are shaped, air-dried, conditioned and oiled to bring back the luster of the leather. The darkened edges and wrinkled flaps are all genuine and unique to each piece. The results are amazingly authentic, with a new bag that appears old, worn and broken-in.
Individually marked with a unique 11-digit serial number to validate the authenticity and the time of production.