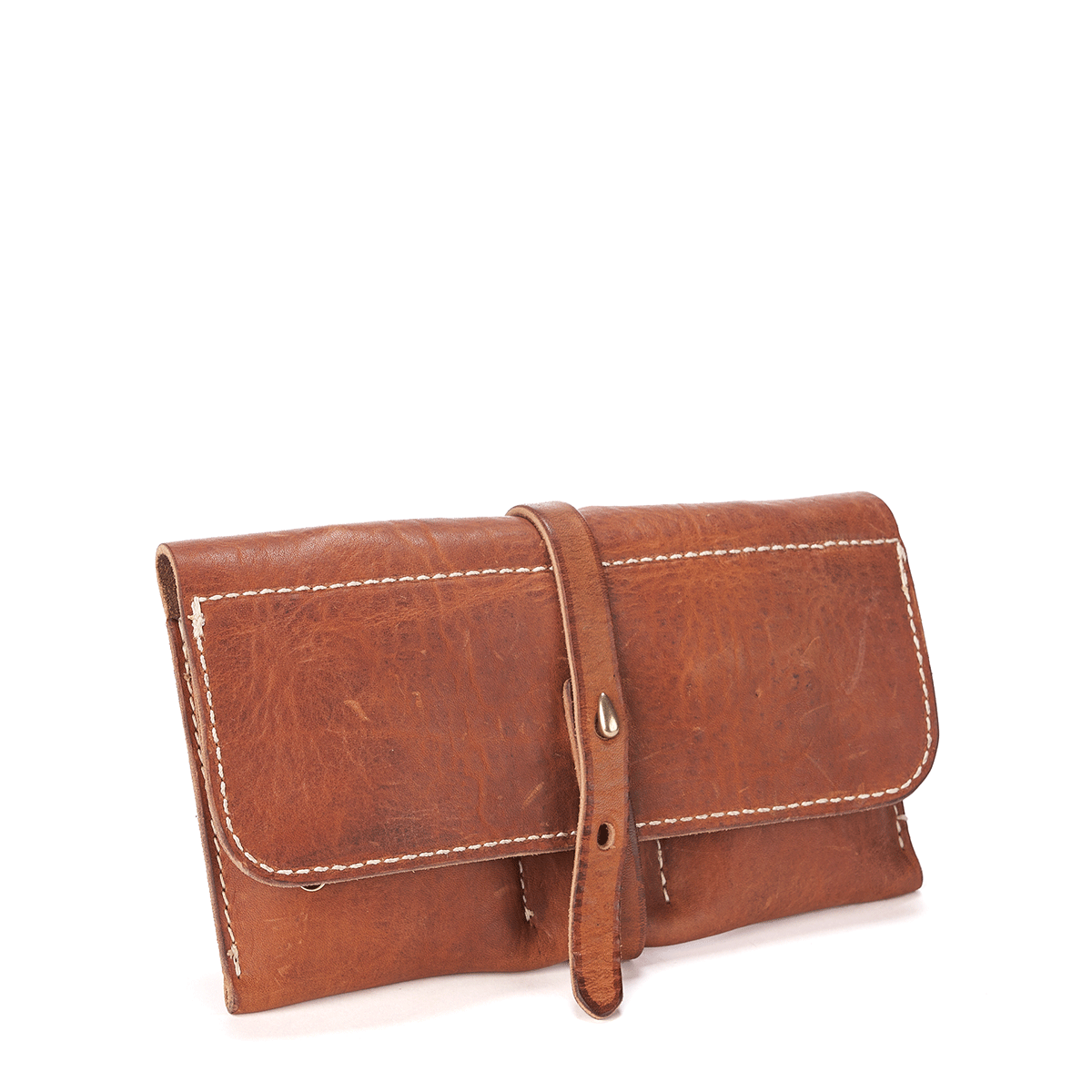 Vintage Stone-Washed Roll Utility #962
A unique and "Exclusive" utility pouch that we designed.  Something a little more organized than our basic pouches. Inspired by the first cowboy-style wrap wallets made in the 1800's but with some upgrades. The three inside dividers are gusseted to fit anything from charging blocks, portable hard-drives, battery packs, cell phones, computer mouse, etc. The top zipper pocket can secure more sensitive items and the three loops are ideal for pens or charging cables.  Everything that was loose in your briefcase can fit secure and organized and slides into any of our luggage items. 
Use the the leather wrap to secure it shut or fold it back to a brass post to create two size loops to hang from your desk, doorknob, etc.  Just a really functional and smart design. 

Made at our shop in San Diego from Horween leather then "Stone-Washed" in Los Angeles to give them a vintage, aged appearance. 
Leather: Horween® Vegetable Tan Leather (6-7oz.) (Stone-Washed)
Lining: Unlined
Hardware: Solid Brass (USA & ITALY)
Zipper: Ykk USA #3 Brass

Dimensions (Open): 10 1/2" x 10 1/4"
Dimensions (Closed):  10" x  5"
Leather Strap w/ Prong Post: 16"
Three Separated Pockets + One Zipper Pocket
Strap Adjusts For Wrap, Handle & Door/Bar Loop
Made In USA
SKU: 9962

One Main Compartment (3-Dividers) 
Brass Zipper Pocket
18" Leather Adjustable Strap/Handle Loop 


STONE-WASHED IN
LOS ANGELES, CALIFORNIA
Inspired by vintage Americana work-wear, denim jeans and leather goods from the 70's-80's, our Vintage Stone-Washed Collection is like nothing else we have made. Each piece is crafted in our San Diego shop using a vegetable tanned Horween® leather, heavy #277 beige thread, solid-brass (Antiqued) hardware and stone-washed in Los Angeles, California after construction. Vegetable tanned leathers are a traditional artisan and labor intensive tanning process that creates unique characteristics in an environmentally friendly manner. The hides are processed in large wooden drums with natural tree bark tannins, waxes and Horween's proprietary tanning liquors. After the stone-washing, we condition and oil the bags to bring back the warmth and richness of the leather. Stone washed, rinsed and heat-dried in Los Angeles, California in small batches, using the same methods and factory that the finest West Coast denim brands use. After washing, the bags are shaped, air-dried, conditioned and oiled to bring back the luster of the leather. The darkened edges and wrinkled flaps are all genuine and unique to each piece. The results are amazingly authentic, with a new bag that appears old, worn and broken-in.