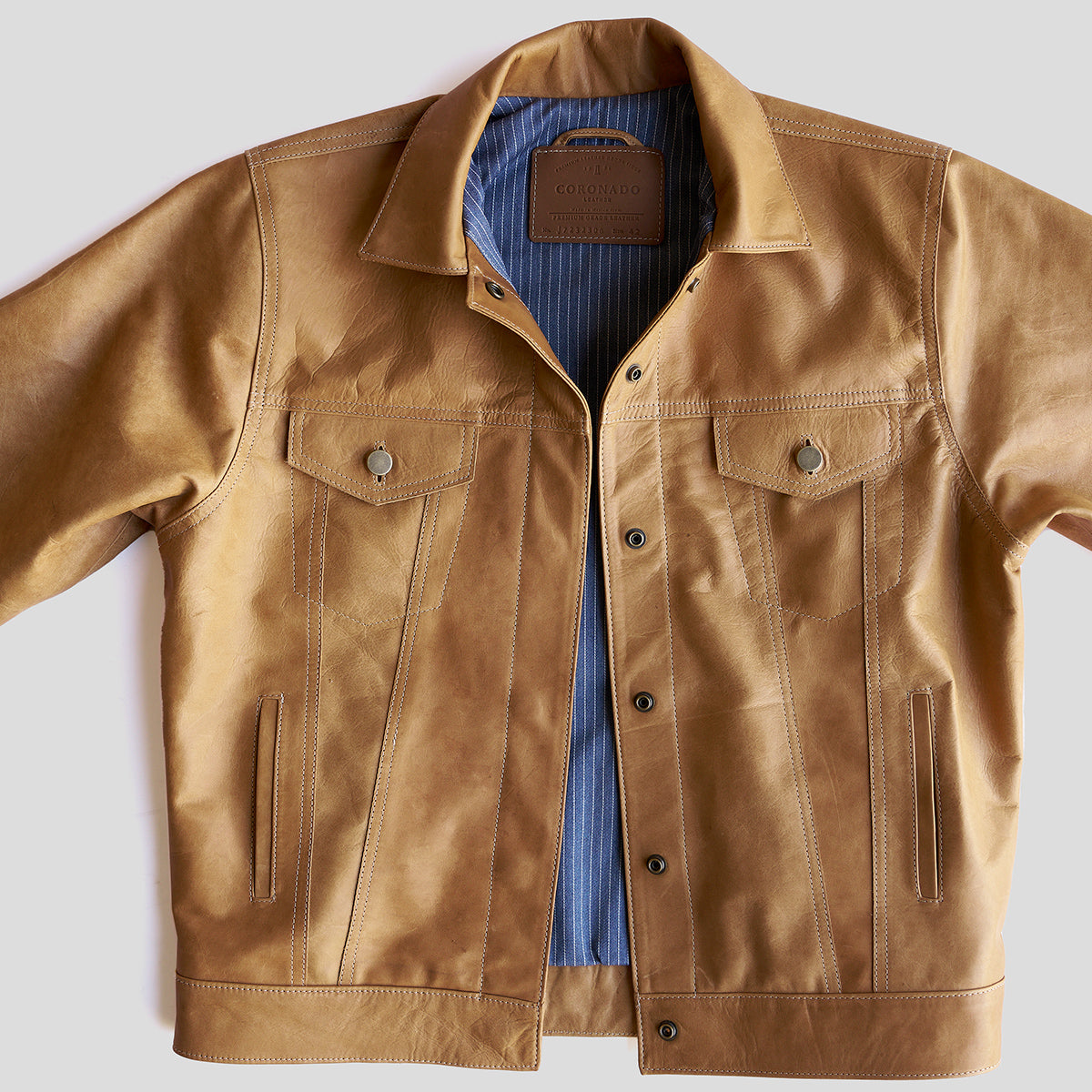 Horween® Horsehide Dean No. 210
The No. 210 Dean is our second edition, introduced for Fall 2023 with design and fit changes. The classic "Trucker" style jacket has been around for more than 50-years, but never exactly like our No.210.
Completely hand-cut from a supple but tough, 3oz. front-quarter Horween® horsehide leather and vintage inspired pin-striped cotton chambray lining. The No.210 is artisan crafted in small batch quantities and old-world jacket construction.  Details like double-stitched seams, hand-cut raw edge sections and precise stitching details. 

The Dean No.210 is a true "waist" length jacket, vintage inspired with a superb fit. Features include a 6-snap front closure design with the snaps hidden between the leathers. It's easier to open & close and looks a bit more refined when shut. In addition to the four outside pockets, it's built with two additional inside leather pockets, a brass zipper pocket on the inside right and an open patch pocket on the left side.
The Horween® Horsehide Dean is a LIMITED EDITION jacket made in small-batch runs of 30 or less per release.
Read more about the Fit and Leather by clicking the tabs below. 
2022 SIZING CHART & FIT INFO  (click here)
The Materials
The Details

The Fit
The Leather
Horween Front-Quarter Horseshide | Veg-Tanned (Chicago, IL)
6oz. Pin-Striped Chambray Cotton Liner
Antique Brass Ykk USA Tack-Buttons & Snaps (USA)


Waist Length Back:  25.5" - 27"
Vintage Construction With Double Stitched Seams 
Hidden 6-Snap Front Closure
Vintage Tack Button Sleeves, Chest Pockets & Back Cinch
Bonded Nylon Beige Thread
Limited Edition: x10 Made (August 2023)
EXCLUSIVE Custom Design & Custom Tanned Leather
(2) 6" Slanted Hand Pockets & (2) Upper Chest Pockets
Inside Wallet & Inside Cell Pocket
Designed In California & Hand-Crafted In Mexico
SKU: 7210-HN


The fit and seam orientation was drawn from original "trucker" style jackets made in the 1970's and 80's. The overall fit is slightly slimmer in the taper than our other jackets, but cut very comfortable in the chest and armholes. The length is a true "waist cut", designed to fall just at or below the belt. The shoulders are narrower but the sleeves are horizontally aligned for better movement and comfort. It tapers 2-3" from the chest to the bottom and the back will include two tack buttons on each side with an adjuster loop. There is an optional "Tall Cut" as well that will add 2" to the length and 1" to the sleeves.





The Dean No.210 is made from Horween® front-quarter horsehide leather in a light-weight and soft tempered 3oz. weight. Horsehide leather is considered a luxury leather with unique grain structure and durability. Artisan tanned in Chicago since 1905, our Horween® horsehide is 100% vegetable tanned using tree barks and other natural materials and waxes. The "natural" color combined with the veg-tannage will patina to a rich tan color over the years. Because this is genuine "horsehide leather", expect to see healed scars, scratches and other marks that are not only natural but add to the character of the jacket.

The horsehide leathers from Horween® originate primarily from Europe and Japan and the hides are a by-product of the meat industry in Europe and Asia. We do not promote the consumption of horse meat, but it has been a source of food in parts of Europe and Asia for thousands of years. We are simply recycling the hides into something of value.
---
HORWEEN® FRONT-QUARTER HORSEHIDE
Horween front-quarter horsehide leather is widely recognized as one of the finest jacket leathers available today. The hides are a comfortable 3-3.5oz. but with the tensile strength of a much heavier hide. Since 1905 | Chicago, IL

Horween Leather Company has been tanning leather in Chicago, IL for more than 100-years. They are a five generation, family run company that we are proud to be working with. They are true artisans of their craft and recognized world-wide as one of the premier tanners of leathers like horsehide, shell cordovan, football leather, basketball leather and more. Today, their leathers are still made by hand, the same way as generations ago.