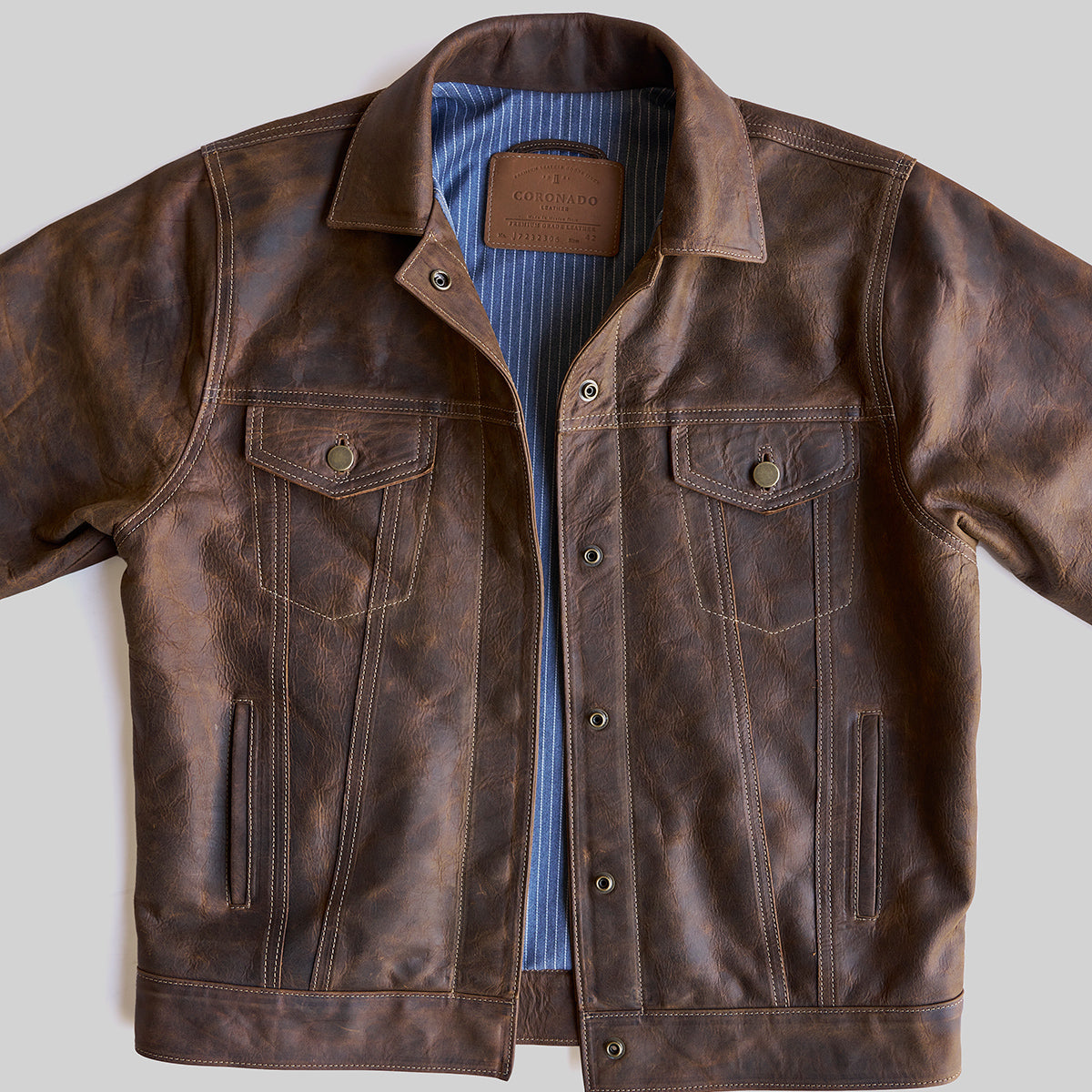 Indy Bison Dean No. 210 | NEW
SHIPS EARLY OCTOBER 2023
September 15, 2023 Update: After a hugely popular first release, we are building another 25 jackets this month. These will ship on the first week of October 2023. Build quantities are limited, so best to place your order soon
The No. 210 Dean is our second edition, introduced for Fall 2023 with design and fit changes. The classic "Trucker" style jacket has been around for more than 50-years, but never exactly like our No.210.
This version is  made with dual CCW pockets as well (not shown in the images) and built from our premier, US tanned "Indy" American bison leather.  
The Dean No.210 is a true "waist" length jacket, vintage inspired with a superb fit. Features include a 6-snap front closure design with the snaps hidden between the leathers. It's easier to open & close and looks a bit more refined when shut. In addition to the four outside pockets, it's built with two additional inside leather pockets, a brass zipper pocket on the inside right and an open patch pocket on the left side.
The Indy Bison Dean is a LIMITED EDITION jacket made in small-batch runs of 25 or less per release.
Read more about the Fit and Leather by clicking the tabs below. 

2022 SIZING CHART & FIT INFO  (click here)
The Materials
The Details

The Fit
The Leather
American Bison (3.5-4oz) | Distressed Brown (Milwaukee, WI)
6oz. Pin-Striped Chambray Cotton Liner
Antique Brass Ykk USA Tack-Buttons & Snaps (USA)


Waist Length Back:  25.5" - 27"
Built with dual CCW pockets and a removable holster
Vintage Construction With Double Stitched Seams 
Hidden 6-Snap Front Closure
Vintage Tack Button Sleeves, Chest Pockets & Back Cinch
Bonded Nylon Beige Thread
EXCLUSIVE Custom Design & Custom Tanned Leather
(2) 6" Slanted Hand Pockets & (2) Upper Chest Pockets
Inside Wallet & Inside Cell Pocket
Designed In California & Hand-Crafted In Mexico
SKU: 7210-IB


The fit and seam orientation was drawn from original "trucker" style jackets made in the 1970's and 80's. The overall fit is slightly slimmer in the taper than our other jackets, but cut very comfortable in the chest and armholes. The length is a true "waist cut", designed to fall just at or below the belt. The shoulders are narrower but the sleeves are horizontally aligned for better movement and comfort. It tapers 2-3" from the chest to the bottom and the back will include two tack buttons on each side with an adjuster loop. There is an optional "Tall Cut" as well that will add 2" to the length and 1" to the sleeves.





Made from our exclusive and best-selling, American Bison leather in our distressed "INDY" finish. Our "Indy" Bison was first introduced in late 2021 and has become one of our most popular and best selling jacket and vest leathers. The rugged & tough American bison leather has a "worn-in" vintage look and feel. The hides are a full 3-3.5 oz. weight, slightly heavier than most garment leathers, but not as thick as it looks. The deep distressed tannage is everything we love about American bison leather. The natural, bold grain, heavy waxes and healed battle scars set this leather apart.  They are a little heavier & stiffer than our traditional bison leather, but it won't last. Wear the leather like a new pair of western boots and you will feel it soften and mold to your body in days. A unique leather and an exclusive design that you won't find anywhere else.

---
AMERICAN "INDY"BISON | Tanned In Milwaukee, WI
Because this is a true and genuine American Bison leather, expect to see healed battle scars, scratches and other marks that that are not only natural but add to the character of the jacket. The bison tannage has a fair amount of waxes, so expect the jacket to feel firm and stiff for a week or two of use. When the waxes start to break-down and distribute throughout the jacket, it will be softer and become more pliable.