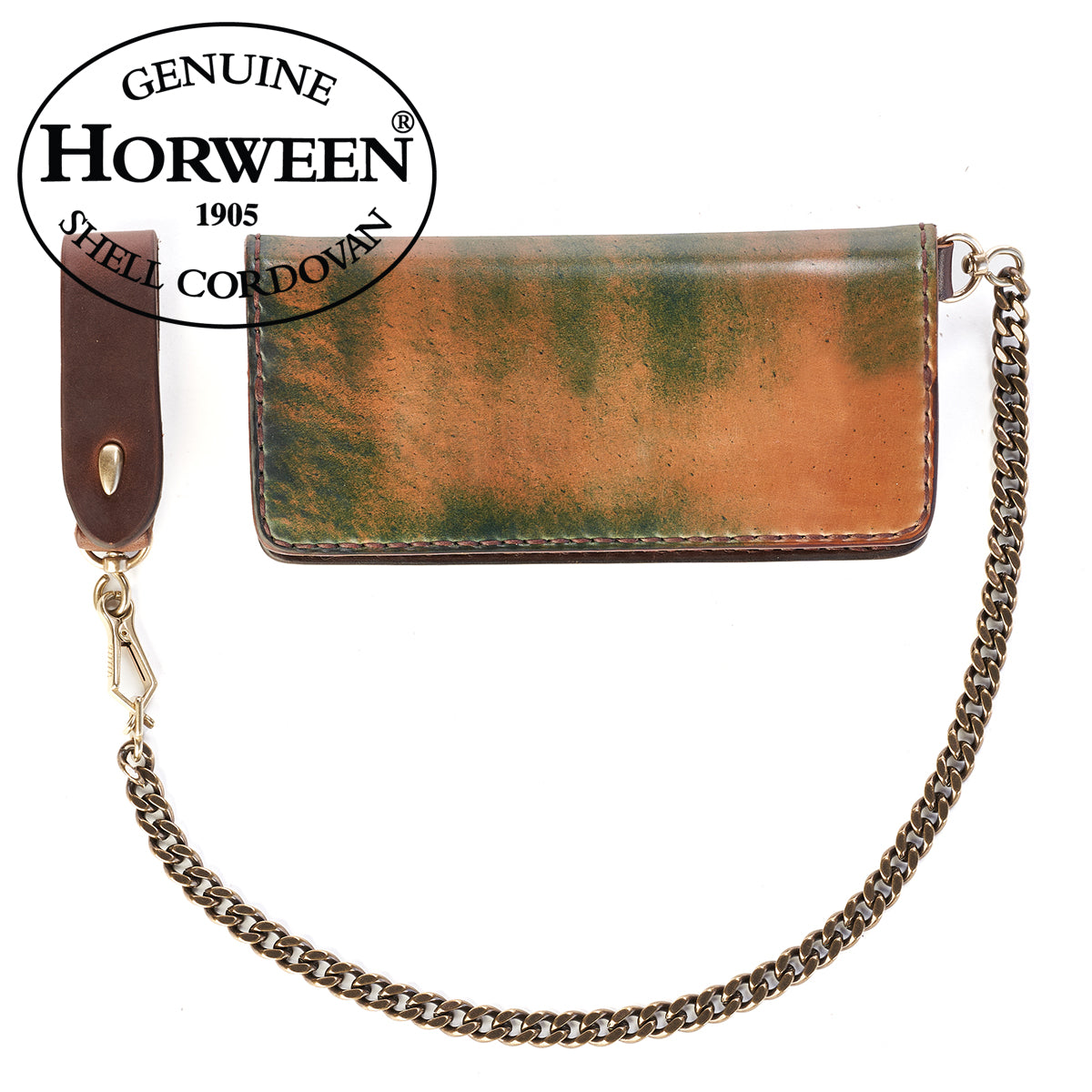 Horween® Marbled Shell Chain Wallet No.9
Our classic "Long Wallet" made from genuine Horween® Shell Cordovan in their limited and unique "Marbled" finish.  Quite possibly the finest leather in the world, Horween® Shell Cordovan is tanned in Chicago for a full-six months, most of which it spends time in the "Pits" soaking with natural tree barks, tannins and vegetable liquors. The "Shells" are shaved, polished and buffed to create a unique, shine and glass-like finish that cannot be duplicated in any other leather. 

Each Shell Long Wallet is individually embossed with a unique serial#, then saddle-stitched completely by hand with imported Spanish thread. The edges are carefully beveled, sanded, stained and waxed to give them a smooth, rounded edge. The unlined body was designed to outlive the "traditional" wallet with the outside Shell Cordovan and the inside built from Horween Horsehide strips, the section of the hide that sits just above the "Shell".  After finishing they are hand-waxed on the edges and polished before shipping. 

The inside is a custom design with six card slots, a bill slot large enough for all domestic & U.S. currencies and a cut-out large enough for documents, bills or a checkbook. Designed with custom Italian hardware and a detachable, premium solid-brass chain and belt keeper.
PIONEER SHOPPE CAMPAIGN | LIMITED EDITION PRE-SALE
CLICK HERE to learn more about our Pioneer Shoppe
PIONEER SHOPPE RETURN POLICY (Non-Returnable)
CLICK HERE to learn more about the Pioneer Shoppe Return Policy

ORDER WINDOW:  May 11 - May 25, 2021
SHIPPING WINDOW:  EARLY JUNE 2021  
Horween® Shell Cordovan (Outside Body)
Horween horsehide internals (3-4oz.)
Premium Solid-Brass 4-Sided Flat Chain
Custom solid brass Italian hardware
Leather Belt Keeper
Premium braided hand-sewing thread from Spain

Dimensions(Closed): 7 1/2" x 3 3/4" x 1/2"
Dimensions(Open): 7 1/2" x 7 1/2" x 1/4"
Chain Length: 1/4" x 17 1/2"
100% Handsewn
Edge stained and waxed by hand
Made In USA
SKU: 3983-HS

Six card slots
One Bill Pockets
Inside, Full-Size Cutout Pocket
Includes matching leather belt/chain keeper
Individual Serial Numbered


GENUINE HORWEEN® SHELL CORDOVAN
Tanned In Chicago, IL Since 1905 
Genuine Horween® Shell Cordovan is quite possible the finest leather in the world. Unique in many ways, shell cordovan is known for it's extreme durability, extraordinary bright luster and glass-like surface and the rich cordovan aroma.
Read more about Horween® Shell Cordovan 

The entire tanning process goes through around 100-processes and takes a full 6-months to complete tan, making this the ultimate "Artisan Tanned Leather".  Cordovan is more than just a color, it is a very specific leather from the "butt" of a horsehide.  The oval shaped shells are tanned, stuffed, shaved, and then polished over six months. 
Each shell is slowly steeped in gentle vegetable liquors then hot stuffed & slicked onto glass frames to dry.  They are hand curried and shaved by highly skilled artisans to expose the shell and the dyes are hand rubbed on for a deep aniline finish. Finally, the shells are hand glazed to achieve the rich, glossy look and feel prized by fine craftsmen.