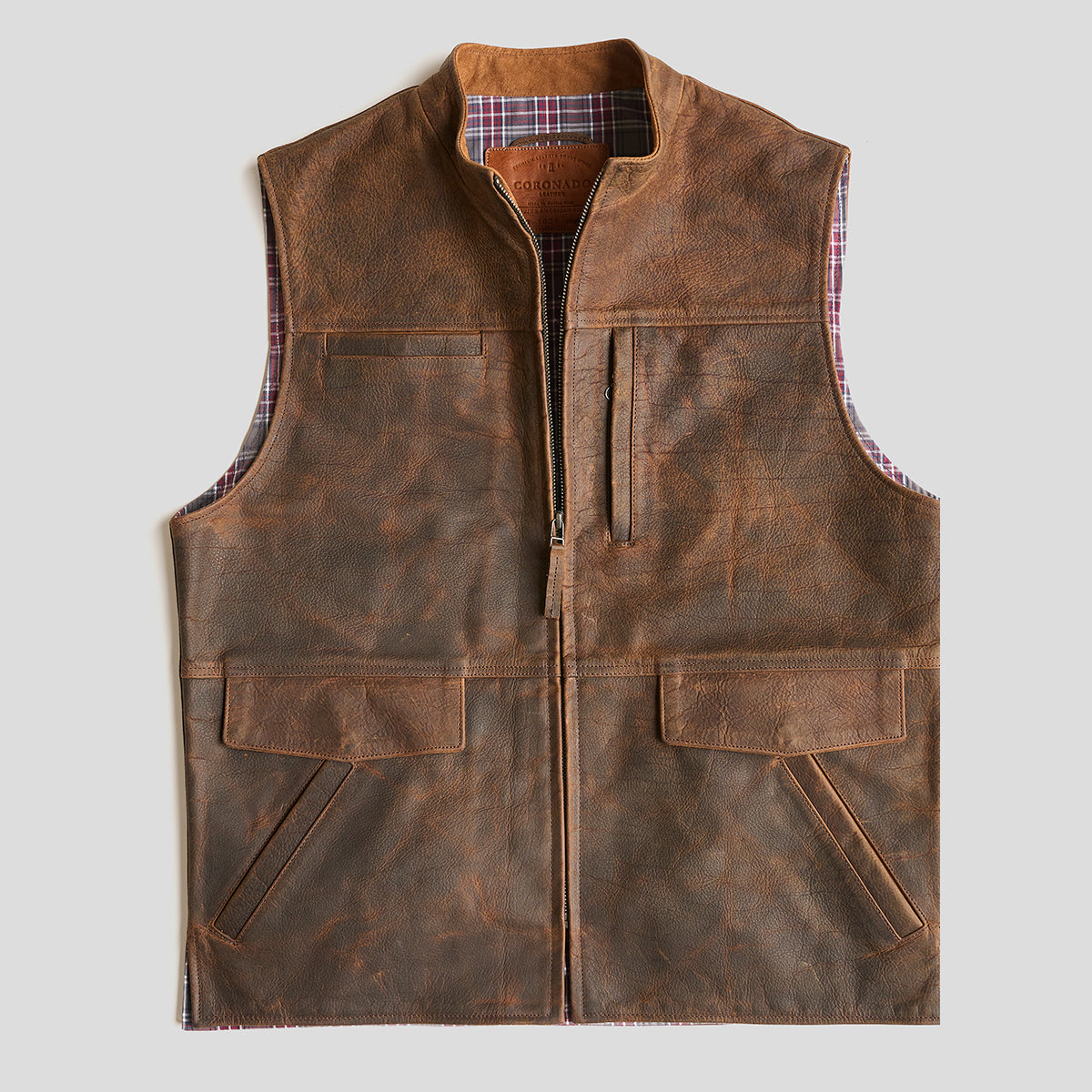 Indy Bison Crossroads Vest
Our NEW original and exclusive Crossroads Vest No. 207 made from US tanned American Bison leather, premium plaid tartan lining and contrasting suede lined internal trim  An exclusive design built to last a lifetime. 
Our Indy Bison leather is not light-weight, but to offset some of that we trimmed the vest with a classic tan colored suede and removed the CCW pockets to take the weight down. It worked well, making the vest at least 20% lighter and more flexible. 
LIMITED EDITION | Only (25) Pieces Made
Designed to be lighter weight and more flexible, we chose to trim the internal panels and pockets with a contrasting light-weight suede. The body is cut with a jacket length body (26" - 28") and built with a total of nine unique pockets (6 outside & 3 inside).  A full-length front Ykk USA brass zipper makes the No. 207 more like a jacket than a vest. 
Distressed "Indy" American Bison 
Our "INDY" Bison is an exclusive leather we introduced in 2021. This rugged and tough leather has a "worn-in" vintage look accomplished by adding waxes and oils. The bison grain is apparent throughout the hide with healed scars, smooth and textured sections all mixed together. It is a completely natural finish without any embossing or plating, making each and every vest truly unique. The skins are a full 3-3.5oz. (not very heavy) but a little on the stiffer side until broken in. As you use the vest the leather will soften and patina to a beautiful deep brown. 
MATERIALS

FEATURES 

DETAILS

SIZING

Genuine American Bison 3-3.5oz. (USA)
Suede Lined Trim & Inside Pockets
#5 Brass Ykk USA Zippers
6oz. Plaid Tartan Lining


Exclusive CLC design

LIFETIME GUARANTEE (

read more

)

Cut with a longer jacket-length body 

9-total pockets




Sizes available: 38 - 60 (Tall available)
SKU: V219-IB


Vest length: 25-28" (measured from base of neck) Tall Cuts: Add 1.5"


Designed In USA | Hand-Crafted & Built In Mexico

Click Here to view our sizing chart & Information Page  
---