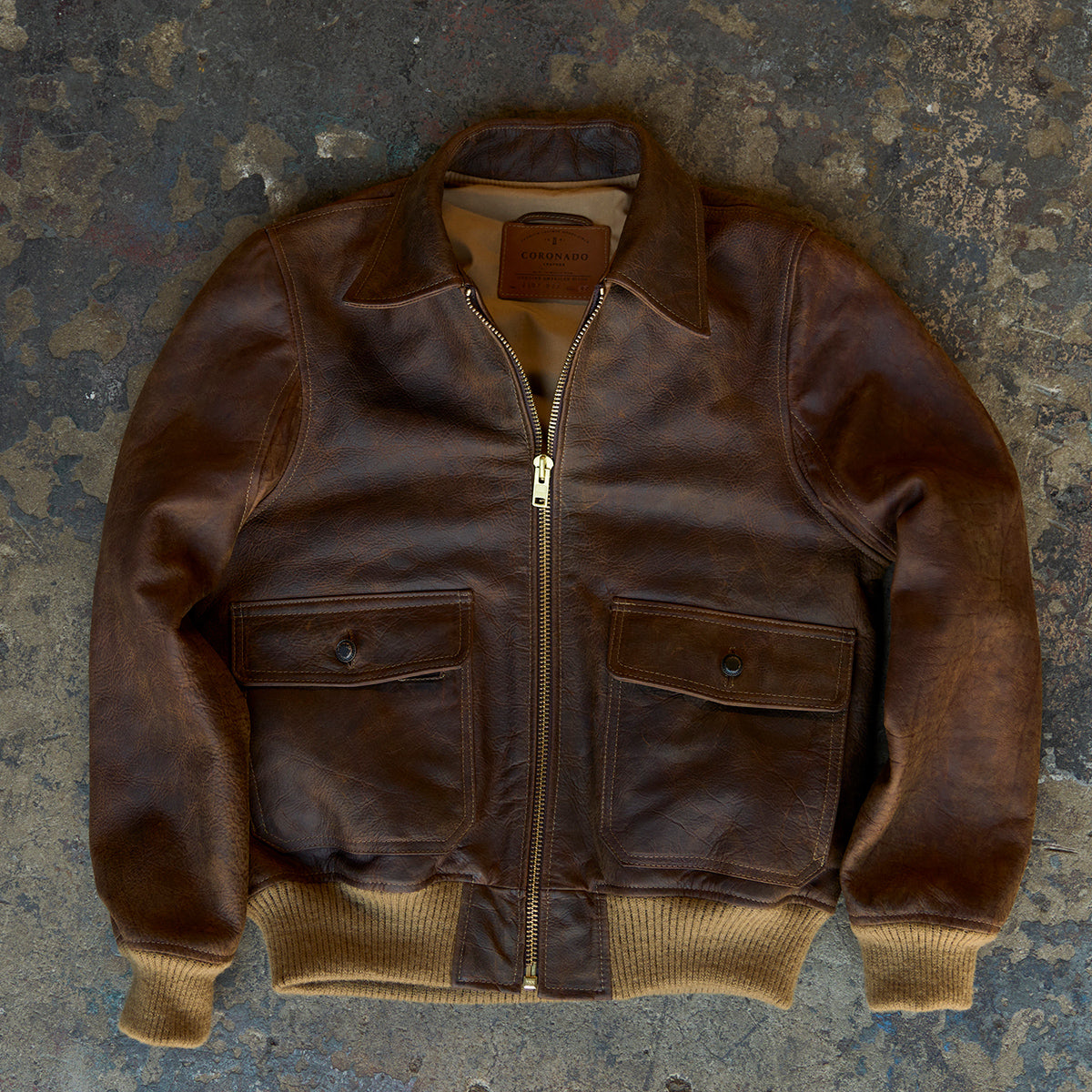 Indy Bison G-1 Flight Jacket
The G-1 Naval Flight Jacket was first introduced in the 1930's and was widely issued to Naval Aviation personnel in the 1940's.  
Today, the G-1 Flight Jacket is a classic style that is sought out by collectors and leather aficionados worldwide.
We sought to replicate the original but with a few upgrades. Our version is constructed from a premium, US tanned American Bison leather that is known to be tougher than cowhide. Constructed from our Indy Bison,  ru
gged & tough leather that has a "worn-in vintage" look. The hides are custom tanned exclusively for us in a deeply distressed brown with a waxed, antiqued finish. They are a little heavier than our traditional bison leather.  A unique leather and an exclusive design that you won't find anywhere else.

Other unique details include USA made premium wool knit cuffs & waist, an oversized brass #10 Ykk (made in USA) zipper,  and our signature dual CCW pockets and holster.  Standard features include a carefully sewn pencil pocket under the left pocket flap, side hand-warmer entry pockets,  a recoiling bi-swing back and gusseted arms to give you complete lateral movement.

READ MORE About Our American Bison Leather
* MADE-TO-ORDER (6-8 weeks): Select this option if you would like to order and your size is not available. We will contact you for sizing info and make your jacket in 6-8 weeks. 
Materials
Features 

Details
Sizing
3.5-4oz. US Tanned American Bison (USA)
Premium USA elasticized wool knit waistband and cuffs (USA)
Lining: 5.5OZ. Cotton/Polyester
Front Zipper: Ykk USA Oversized Brass #10


Back Length 26-28"
Authentic G-1 Flight Jacket Design


Inside Storm Flap

Front Patch/Flap Pockets


Front Hand-Warmer Pockets

Inside Wallet Pocket

Dual inside (CCW) concealed-carry pockets (includes universal holster)




Sizes available: 38 - 62 (Tall-cuts available)


SKU: PJ102-IB
CCW Dimensions: 8" x 12" CCW Opening: 8"
Designed In USA | Hand-Crafted & Built In Mexico



Click Here to view our sizing chart & Information Page