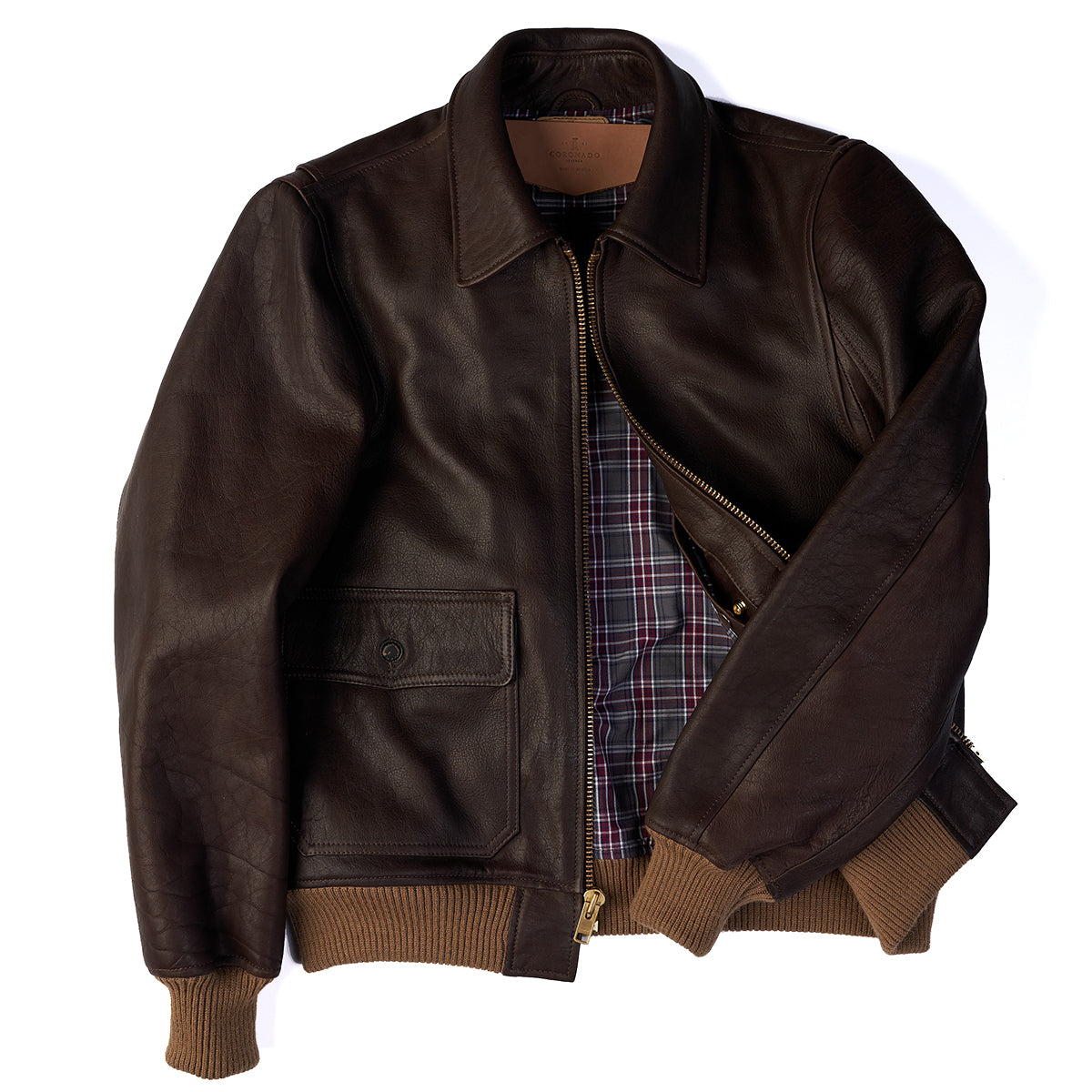 Bison G-1 Flight Jacket (Pre-Sale)
The G-1 Naval Flight Jacket was first introduced in the 1930's and was widely issued to Naval Aviation personnel in the 1940's.  
Today, the G-1 Flight Jacket is a classic style that is sought out by collectors and leather aficionados worldwide.
We sought to replicate the original but with a few upgrades. Our version is constructed from a premium, US tanned American Bison leather that is known to be tougher than cowhide with a soft-hand and a naturally pebbled grain. A fantastic jacket leather that will last a lifetime. 

Other unique details include a tartan plaid liner, custom USA made premium wool knit cuffs and waist and our signature dual CCW pockets and holster.  Standard features include a carefully sewn pencil pocket under the left pocket flap, side hand-warmer entry pockets,  a recoiling bi-swing back and gusseted arms to give you complete lateral movement.

READ MORE About Our American Bison Leather
PLEASE NOTE: This is a Pre-Sale Item with a future ship-date of
 Mi
 Mid March 2022
PIONEER SHOPPE CAMPAIGN | LIMITED EDITION PRE-SALE
CLICK HERE to learn more about our Pioneer Shoppe
PIONEER SHOPPE RETURN POLICY (NON-RETURNABLE)
CLICK HERE to learn more about the Pioneer Shoppe Return Policy
ORDER WINDOW:  January 27 - February 8
SHIPPING WINDOW: Mid March 2022    
Materials
Features 

Details
Sizing
3.5-4oz. US Tanned American Bison 
Premium USA elasticized wool knit waistband and cuffs
Lining: 5.5OZ. Plaid Cotton (Red, White Grey)
Front Zipper: Ykk USA Oversized Brass #10


Back Length 26-28"


Authentic G-1 Flight Jacket Design

Front Patch/Flap Pockets


Front Hand-Warmer Pockets

Inside Wallet Pocket

Dual inside (CCW) concealed-carry pockets (includes universal holster)




Sizes available: 38 - 62 (Tall-cuts available)


SKU: PJ101
CCW Dimensions: 8" x 12" CCW Opening: 8"
Designed In USA | Hand-Crafted & Built In Mexico




Click Here to view our sizing chart & Information Page
---