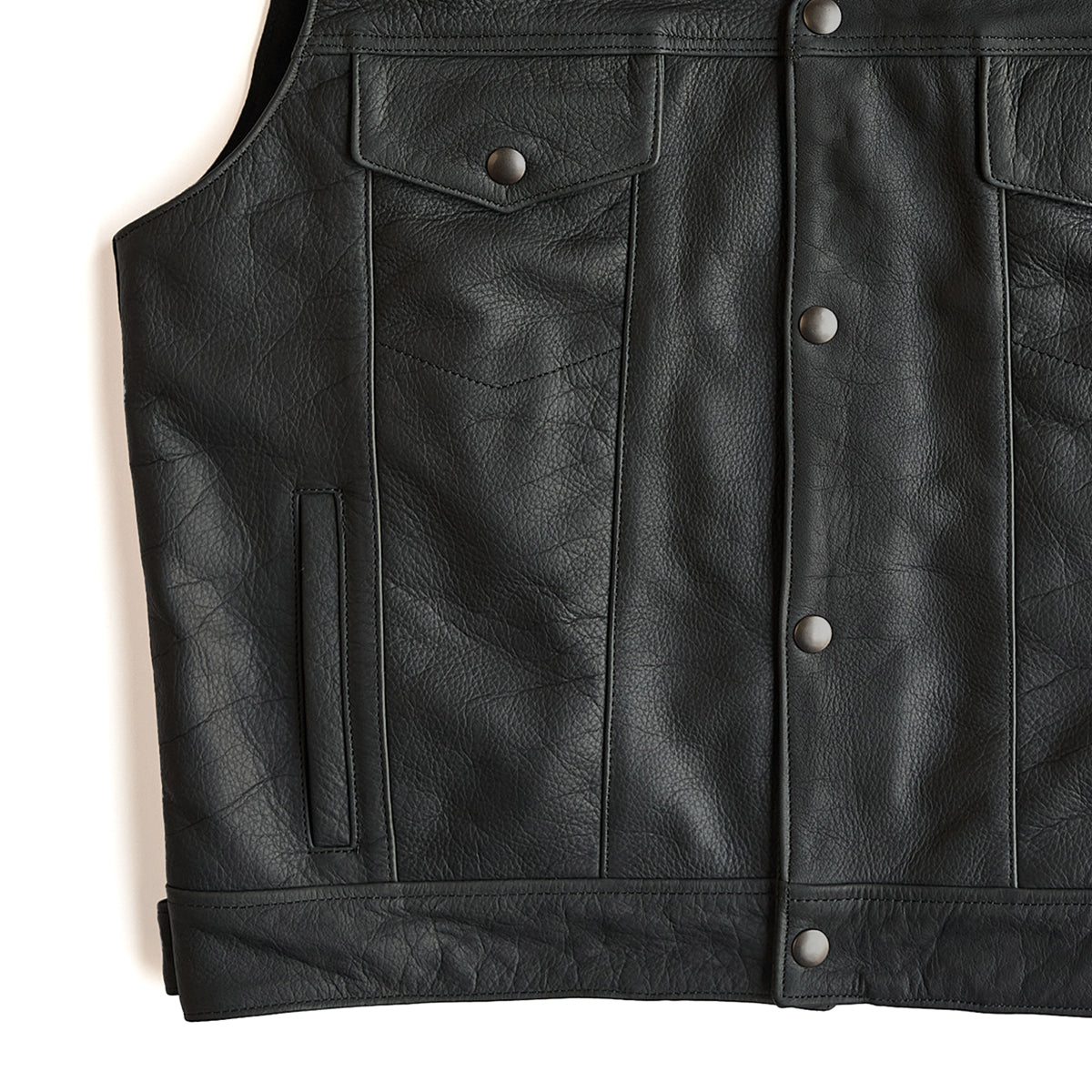 Original Rider Vest No. 4319
One of our earlier designs first introduced in our 2003 Catalog.  A classic "Motorcycle Style" vest with standout details, heavyweight leather and our dual CCW pockets. This version was a variation of our V-Rider but with the snap-back collar design.  
Designed in conjunction with experienced riders; tested over several months and hundreds of miles of riding. We used a black pebbled cowhide or a stout American Bison leather, both in black and a heavier (3.5-4oz.) weight. The hides are water-resistant with a protected finish to handle the elements better. Other features include wider cut shoulders to minimize the wind effects, a heavy-duty #10 brass Ykk zipper under a leather flap with snap closures, four front pockets, our signature CCW pockets and a full-panel (one-piece) back. An exceptional vest for riding or just exploring.  
click here to learn more about our Original Rider Vest 
Please Note: This is a LIMITED EDITION VEST | Sizes Limited | Last Re-Stock Of 2022 
Materials
Features 

Details
Sizing
Naked, Full-Grain Cowhide Leather (3-3.5oz.)
Optional: American Bison Leather (3-3.5oz.)
Ykk #10 Brass Jacket Zipper
5oz Cotton/Poly Blend
Ballistic Nylon CCW Pockets
Premium Brass/Black Snaps

Snap-down collar
Double Front Closure (Zipper under Snaps)
One Piece Back Panel
Three Additional Inside Pockets
Dual External Hand Pockets & Upper Chest Pockets
Wider Cut Shoulders To Cut Wind 

Dual inside concealed-carry pockets (includes universal holster)




Sizes available: 38 - 60 (Tall available)
SKU: V80 / V89
Vest length: 24-27" (measured from base of neck) Tall Cuts: Add 1.5"
CCW Dimensions: 8" x 12" CCW Opening: 8"
Designed In USA | Hand-Crafted & Built In Mexico


Designed & Built In USA

Click Here to view our sizing chart & Information Page
---
30-Years Of Vest Making
In the Summer of 1989 we designed and build our first leather (CCW) concealed-carry wear vest. It was classic black motorcycle vest that was common in the 80's built with internal CCW pockets, something not so easy to find back then.
Today, we still design & build a complete collection of men's leather vests from premium leathers, quality brass YKK zippers and custom sourced snaps, all with internal CCW pockets
We design all of our vests & jackets in our California Leather Shop and built them in our own custom leather shop in Mexico,  where generations of leather crafting knowledge has been passed down. Our craftsmen here work only on outerwear and nothing else. Each vest cut by hand from the finest quality hides from around the world.  We hand-set snap holes, skive edges & pride ourselves on designing functional and timeless vest designs.
click here to read more about the NEW Pioneer Vest Collection